If you are a technology manager, you know that we work hard to manage the issues associated with networks. You are at risk every time your company is exposed to a downtime, as most businesses cannot afford downtime regardless of the size of its impact. The exact impact of a network outage varies significantly by industry. According to the Meta Group, one hour of system-wide downtime can cost a company from US$330,000 to US$2.8 million.
Every business organization requires an IT infrastructure that is e-business–ready – that extends globally to all prospective customers, employees, suppliers, and partners, and enables new, innovative, and efficient business processes. However, very few organizations can hire, train, and retain adequate in-house talent to ensure the operation of a stable, technologically current, highly available, high-performance IT infrastructure. Also, it becomes more difficult to stay current, as technology, product, and WAN service life cycles get shorter.
Managed network services (MNS) can help ensure business continuity amidst everyday interruptions and unexpected disasters. The best service providers aim to provide customers with 99.99% availability, which works out to be about five minutes of downtime per year.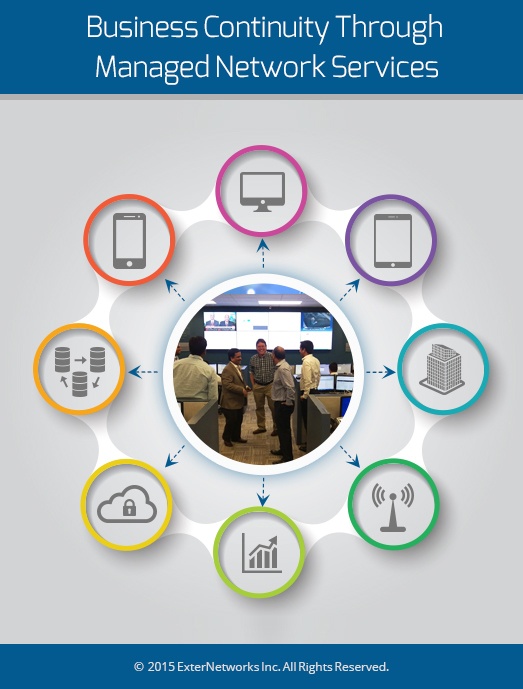 Managed Network Services protects your business from unexpected disasters, ensuring business continuity.
THE FINANCIAL IMPACT OF DOWNTIME IS TOO HIGH
No organization can afford the cost of downtime, as it is not only risky but also exorbitant. Let's look at the impact on (1) the enterprise and (2) the SMB.
Enterprise Impact: According to Dun & Bradstreet, 59% of Fortune 500 companies experience a minimum downtime of 1.6 hours per week. Let us assume an average Fortune 500 company has 10,000 employees, who are paid an average of $60 per hour, including benefits ($45 per hour salary + $15 per hour in benefits). If you compute the labor component of downtime costs for such a company, it would be $960,000 weekly, which translates into a whopping figure of about $50 million per annum.
SMB Impact: According to estimates gathered from studies and surveys performed by IT industry analyst firms, organizations, on an average, lose between $84,000 and $108,000 for every hour of IT system downtime. Moreover, the industries with a high rate of revenue loss during IT downtime include retail, financial services, telecommunications, energy, and manufacturing. The following table shows the typical hourly cost of downtime by industry: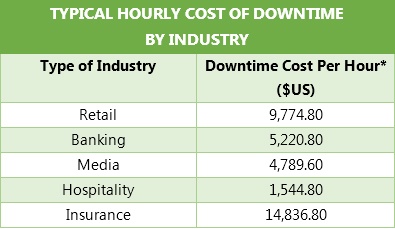 Source:Schneider Electric 
*Assuming 40 employees
So no matter the size of your business, downtime is money out of your pocket, wasted capacity or opportunity cost of not being functional. This makes Managed Network Services (MNS) a critical strategy to help your organization in avoiding downtime or building reliable mechanism for disaster recovery and ensuring business.
The need for MNS
Downtime concerns is just the reverse side of the coin, if you look on the other side of the coin, that is on any normal day of operations, organizations globally rely on their network, IT systems and software to accomplish critical business objectives and score a competitive edge. However, the vital corporate IT assets have become more complex and expensive to manage. Most organizations spend the bulk of their IT budgets on basic maintenance, while allocating only a small portion of it to business innovation or business continuity. Organizations that maintain a competitive edge are turning to Managed Services for solving their issues.
Managed services plays a vital role in enabling organizations (across any industry vertical) to shift their focus from IT infrastructure to their core businesses. It offers organizations economical access to expertise and technology, with the avoidance of direct capital costs or continuous investments in expertise and tools for effective technology operations. Overall managed services can reduce the recurring in-house IT costs by 30-40% and bring about a 50-60% increase in efficiency. Evolving from the original focus of network management, managed services now typically includes managed network (which includes managed NOC), managed cloud, managed mobility, managed infrastructure, managed communications, managed data center, managed information, and managed security. As you can see, regardless of the business type or technology platform, specialized management is essential for business continuity and competitiveness. This is why you will continue to see a wide adoption of organizations that are turning to Managed Services Providers (MSPs) to take advantage of their expertise, scale and service guarantees. Let's take a brief look at how quickly your competitors are adopting managed services to pull ahead; the next section shows the significant growth expectations over the next five years. This means you, as a business leader, need to do better than your competition by not only thinking managed services, but also ensuring you do it right away and right.
The Growth of Managed Services &Managed Network Services (MNS)
According to Research and Market, the global managed services market is expected to grow at an estimated CAGR of 12.5% from $107.17 billion in 2014 to $193.34 billion by 2019, while the MNS market is expected to grow at a CAGR of 10.6%, from $30.67 billion in 2014 to reach $50.83 billion by 2019, according to a market research report published by MarketsandMarkets. Within MNS, Internet Protocol-Virtual Private Network (IP-VPN) captures the major share from 2014 to 2019, with Local Area Network (LAN) and Wireless LAN segments following it.
According to a study conducted by MSP Alliance in the fourth quarter of 2014, in North America alone, customers spent an estimated $154 billion on cloud and managed services during 2014. Europe leads the adoption of MNS; that is, when you exclude the cloud-only implementation for which America still maintains the lead. Asia-Pacific (APAC) is also closely ramping up due to the huge potential in India and China, coupled with its increased IT spending, while Latin America, and 'Middle East and Africa' (MEA) are expected to outperform adoption, with a steady rise in Y-o-Y growth. Most enterprises, who have the luxury of capital to run full IT departments, provide in-house management of their systems and follow a more gradual approach. In this approach, they outsource the basic level NOC functions to an MSP and leverage their in-house IT experts for level 2 & 3 support. The basic level NOC functions include monitoring & notification with level 1 triage. The area of major adoption is with small and medium businesses that cannot afford to retain a deep set of level 2 and 3 expertise across multiple technologies to keep their systems always-on and ensure business continuity. The trend is for them to relinquish their entire IT management and fault resolution to an MSP for a lower cost of operations and better service level guarantees.
Given the origins of MNS, which was a focus on the network, this service was typically provided as an add-on by telecom providers. These telecoms providers offered this as a retention mechanism and not a core value offer to their network services. Over time they have offloaded the burden of management of the customer's environment beyond their core and partnered with MSPs who can provide a more focused service directly to the customer. Today, the MSPs serve as vendor agnostic integrators and administrators across a customer's multiple telecom providers and IT vendors. In most cases they even take over the management of 3rd party contracts and liaise with vendors on customer's behalf to resolve issues.<
The Network is still King | MNS
As the number shows, more and more organizations are paying attention to the network. Rightly so, the network is the backbone of their entire operations. It has become indispensable for every business organization to have an IT infrastructure that extends globally to all prospective employers, customers, suppliers, and partners, and ensures innovative and effective business processes. The network interconnects all these pieces and needs to keep all of them working towards a high-performing business technology platform. The laborious tasks and operations of maintenance, troubleshooting networks, fixing outages, reacting to downtime, upgrading software, patching and dealing with bugs, and hardware and technological issues can take dedicated time of up to 80% of an organization's IT resources. Now, that is a lot when you consider that, for starters, very few organizations have the internal resources to ensure a stable operation of an e-business-ready network infrastructure. The good news is that organizations can now leverage expert services from an MSP and relieve themselves of this burden.
Matured MSPs can offer organizations MNS services that include:
Technology labeled WAN services, where the access device is installed and managed by the MSP.
Internet-oriented services, which include service provider virtual private networks (VPNs) with reliability, performance and security guaranties. Here, the level of service is controlled by the MSP.
Managed enterprise networks, where the MSP takes responsibility not only for the wide area network (WAN) and WAN access devices, but also for a certain set of functions that delve into the premise network, such as building local area networks (LANs), desktops, and servers.
Consolidated access services that support authentication of application, help in securing network and resource access, and aid in management of multiple accounts and passwords for each application and access method.
Application and e-commerce outsourcing services, which involves the developing of proprietary/bespoke software, APIs, and portals that deliver unique digital capabilities to a business.
Why MNS?
The success of your business depends on the health of your network. Once your network is fully up and running, MNS becomes an invaluable source of security and resolution of issues. A MNS provides businesses a powerful tool not only for regulating, responding to, and countering threats impacting their environment, but also limits risks and avoids excessive downtime, thus protecting your company's brand and reputation. Businesses that choose to outsource MNS can save valuable time, reduce operational costs, increase productivity and free-up resources to focus on network design, apart from finding time to develop and enhance business applications.
Download Managed Technology White Paper
MSP teams can complement your IT team by providing access to experienced resources with specialized skills. The MSP teams deploy and manage network services on a daily basis for a wide range of technologies, application and enterprises. The best ones use their expertise and can proactively identify potential issues before they arise and cause business downtime.
The MSP's Network operation center (NOC) performs the complete gamut of tasks such as monitoring, detection, and isolation and resolution of issues impacting network performance. It performs a proactive analysis around the clock and rectifies any faults immediately. Upon diagnosis of a problem by the NOC engineers, maintenance is immediately initiated based on advanced diagnostic tools. Event correlation is one of the most effective ways through which MSPs provide network assurance. In this, unrelated system incidents are taken and recognized as part of a single intelligence event. Event correlation ensures swifter resolution of network issues, which implies least downtime for your critical business applications.
Benefits of MNS
MNS will give you the following benefits:
Minimize operating expenditure by up to 25% or more
Reduce infrastructure costs
Protection from security threats, risks, and vulnerabilities around-the-clock and improved overall network security with MSP's accelerated detection mechanisms
Expedite your ability to scale and implement new applications and services to your users
Phase out the investment to organically grow operational skills to manage new technologies
Focus on your business and other core competencies
Get improved intelligence on how available IT resources can be efficiently utilized for better implementation and deployment
Get more options for enhancing strategic IT initiatives by discarding tedious operational tasks
Ensure more stable, reliable and secure business processes
Assurance of proactive support, with 24×7 real-time monitoring and management
Eliminate business downtime; your MSP will keep the network systems up-to-date with latest patches, revisions, upgrades, and information security. And proactively resolve issues as they become eminent.
Reduce staff, operational costs, and complexity in your IT infrastructure.
Adopting New Technologies? Keep an Eye on Your Network with Managed NOC
Leverage IoT Technologies to Sustain Competitive Business Advantage
Subscribe to our Newsletter and
Never Miss a Post!
Get the latest content from our Managed Services Blog.
Subscribe
Latest Posts