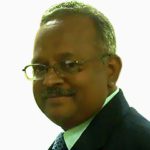 Ready to migrate to cloud? Reap the benefits of cloud adoption by driving innovation through Managed Cloud Services.
Today, Enterprises of all sizes are using Cloud Computing in one form or the other. With more than 200 cloud computing providers and their various cloud service offerings, choosing the best cloud solution and managing it is an uphill task. The effective use of cloud automation, self-service and orchestrations tools that cloud offers is the biggest struggle in transitioning to the cloud. There are a number of other key challenges that Enterprises face when they want to adopt and migrate to a cloud solution. A few of these key challenges are discussed here.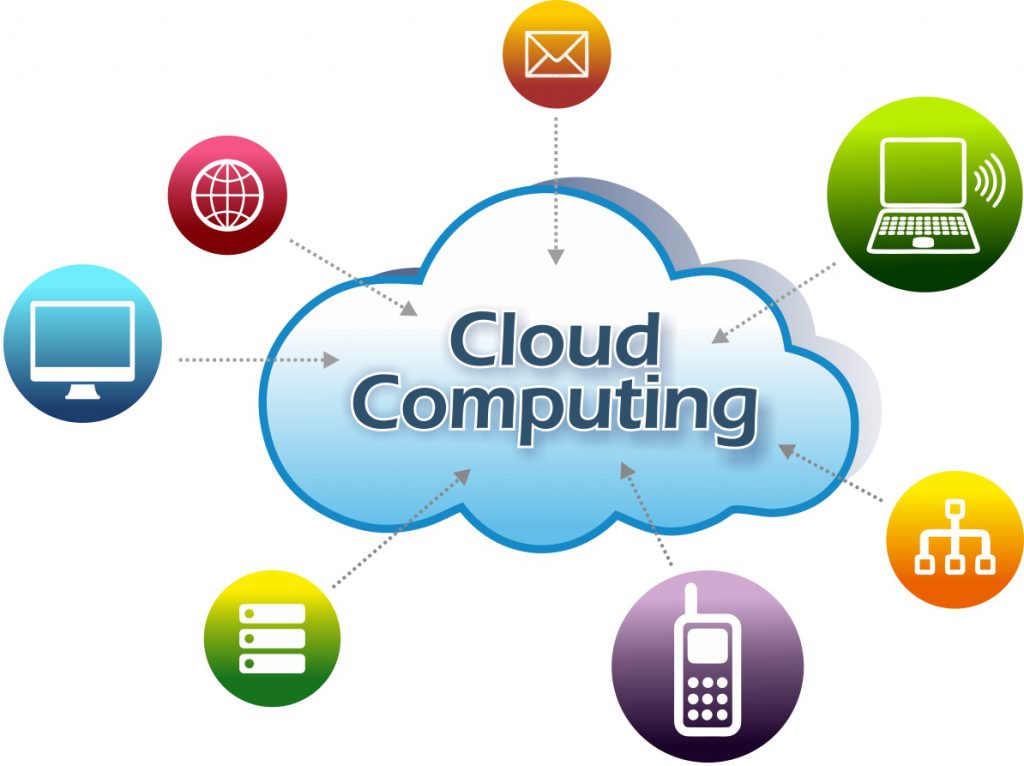 Cloud Computing
Have you decided on the Cloud Adoption strategy to move your business to the cloud? Is your IT environment ready for Cloud migration? – You only pay for the cloud resources, not for understanding the architecture of your Enterprise Applications or for the ability to seamlessly migrate to the cloud provider's architecture. Each of the major cloud providers impose different architectures that may not match your current set up. Unless, you have a skilled IT staff to assess and migrate your business to the cloud, your cloud adoption strategy would be ineffective and costly. You may end-up re-writing your software.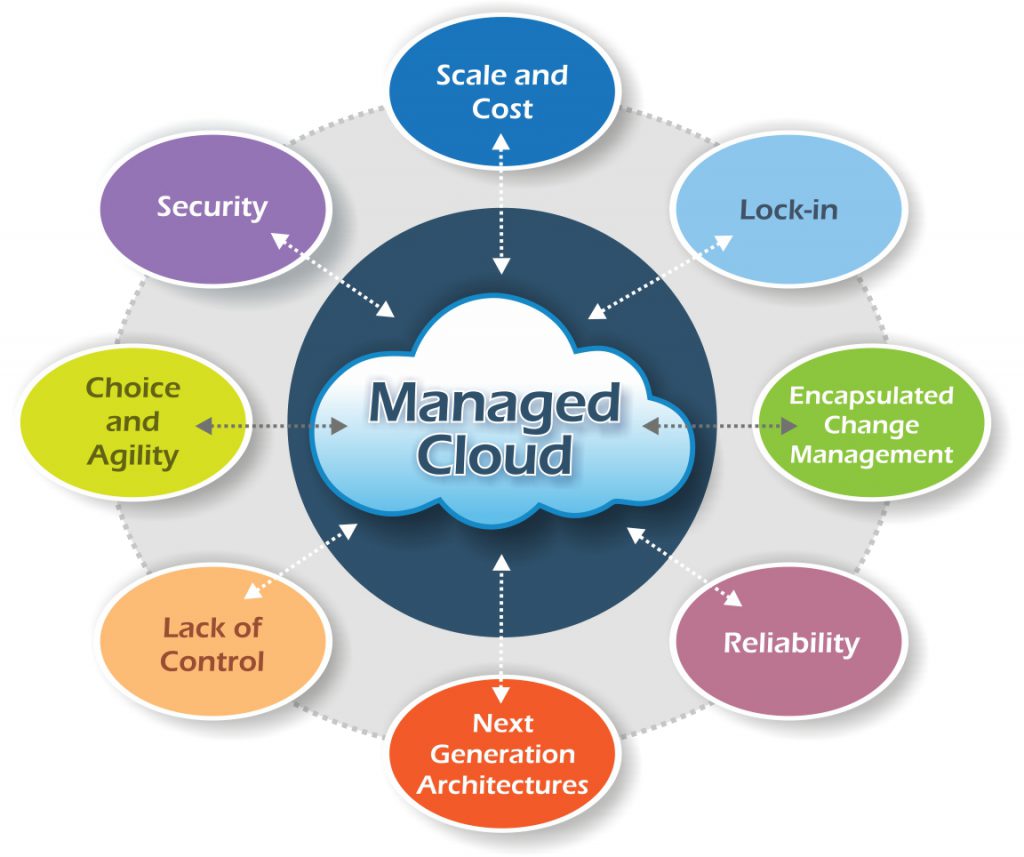 Managed Cloud
Do you know all the security policies that your cloud service provider is offering? Does your budget allow you to allocate IT resources to study your security policies and implement them on the cloud? With so many players in the market, can you trust your provider?
– You may have to totally rely on your cloud provider for the security and privacy of your customer's personal and financial data. Today, all the major cloud providers offer you some generic security for access, IT compliance, data, backup and recovery. You must ensure that these security offerings match your current IT security standards and similarly configure your cloud offering to keep your data protected.
What happens to your data when you move to the cloud? Are you willing to lose some level of ownership and control over it? Did you plan who can access your data and for what purpose?
– You must ensure that all your Organization's policies, technologies, and controls are deployed to protect your data, applications along with the associated infrastructure of the cloud offering you choose. Lack of standards about how Cloud providers erase existing data and recycle their disk space is another major concern. Public Clouds with multi-tenancy share the same infrastructure – so data security is not just your issue, but it tops the list of Cloud provider's issues.
Have you planned to integrate your cloud services? Is your cloud architecture ready to move to another cloud provider in the future? Have you ensured Data portability?
– Today, you applications, data, tools must have the ability to move from one cloud to another since it is very difficult to use multiple vendors and to seamlessly integrate legacy and cloud services. Also, there might be a significant cost involved to switch to cloud providers. Not all Cloud providers have open standards for interoperability and some of them are also against portability.
Is your cloud provider Cloud mature? Do they provide reliability, manageability and support that is a must for your services? Is your IT staff equipped to negotiate service levels and ready to serve your customers like a service provider?
– Most of the cloud providers cannot provide the levels of reliability, manageability and support that your business needs. There is a blurred transparency of innovation changes that are happening to the system architectures based on the services and cloud computing platforms. You can never be sure if your cloud provider can deliver cloud maturity to meet business and technology capabilities.
Do you know that Disaster Recovery requires stringent management practices? Does your cloud provider have a cost-effective disaster recovery strategy? Do they have strong redundancy that meets your requirements?
– Maintaining a cloud-based disaster recovery needs a considerable amount of management even if a disaster never strikes.Though data can be stored in multiple machines and backed up, not all cloud providers have a fully secure cloud storage.Your data must seamlessly work with multiple devices along with end-point device backup, remote syncing and sharing.
Are the cost advantages for your cloud adoption clear? Have you analyzed your TCO by understanding the true value of cloud-based technology? Did your cloud provider deliver a TCO calculation to give you a basic understanding of the costs that are involved?
– Each cloud deployment model requires a thorough understanding of the underlying cloud technology; it is much more complex than what most enterprises realize. Most TCO calculation services that are offered by major cloud providers only show the basic value to sell you their cloud offering. You must also assess the moving parts as well as their benefits; though they are hard to define and determine.
Do you have a reliable data connection for your remote workforce? Is there a network redundancy plan between you and your cloud provider?
– Universal availability of cloud services for enterprise customers is a prime concern in the cloud arena. Internet service must be reliable and secure. Access to cloud assets and applications must be provided from anywhere, anytime. If your staff are working at areas where there is inherently less reliable internet connection, this could hamper your day-to-day operations.
To overcome these challenges, Enterprises need to adopt a holistic approach to review their business needs and create a strategic plan to make the shift. These challenges also created new business opportunities in the form of Managed Cloud Service providers. These service providers have fully embraced cloud architectures and transformed themselves to effectively support cloud projects. They can efficiently evaluate your current IT environment, negotiate contracts, manage relationships with cloud providers, accurately define costs, and successfully implement subscription models.
Significant benefits of Managed Cloud Services
Managed Cloud Services is gaining momentum in the cloud arena as businesses want to transition from offering traditional hosting to a cloud-based hosting. Managed cloud is cost-effective for businesses who don't want to dwell on the hassles of "self-service" cloud offering. The benefits of a typical Managed Cloud Service Provider include the following:
Cloud Consulting: Cloud Adaption models, Risk Analysis, Cost measurement, Provisioning – Automation, Infrastructure , Cloud-enabled Application Architecture, Platform identification, Cloud integration with on-premise applications, Multi-cloud strategy, Business Continuity on Cloud, Deployment Models, Interoperability, and Portability.
Cloud Migration: Application Migration, Data Migration, and Infrastructure Migration.
Cloud Monitoring and Management: Cloud Resource utilization, Application Monitoring, Availability Monitoring, End-user access to Cloud Monitoring, Cost Monitoring and Optimization, Database Monitoring and Management, Resource Provisioning, .
Monitoring, SLA driven managed service, Reports and Dashboard, 24×7 support – Online Helpdesk, Telephone and Onsite.
Businesses are continuously looking to increase productivity, which require them to free their IT resources and focus on strategic initiatives and cloud-driven innovations. With ExterNetworks Cloud ManagementServices – an integrated, cloud agnostic managed solution, we cover the breadth and depth of cloud lifecycle management to help you find the right answers for your cloud needs. For questions reach us through contact us page or connect with us at Twitter, Facebook, or LinkedIn.
Empowering Smart Cities with Open Data by PediaCities
Benefits Of Managed Services To Avoid Delays In Bandwidth
Subscribe to our Newsletter
Get the latest content from our Managed Services Blog.
[contact-form-7 id="686" title="Sidebar Subscribe form"]
Latest Posts