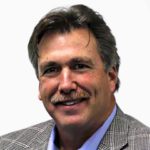 Every IT organization today needs infrastructure that can support expansion into new markets, customers, employees, vendors, and partners for business innovation and efficiency. Very few businesses succeed in accomplishing such operations, because they have the necessary resources and budget handy. The onus of architecting an IT infrastructure that can support incremental expansion is on the IT Manager.
Almost every IT Manager in the world faces this challenge. While they focus on business expansion, they also have to hire, train and retain enough talent to manage the existing network. See how Managed NOC can support your network…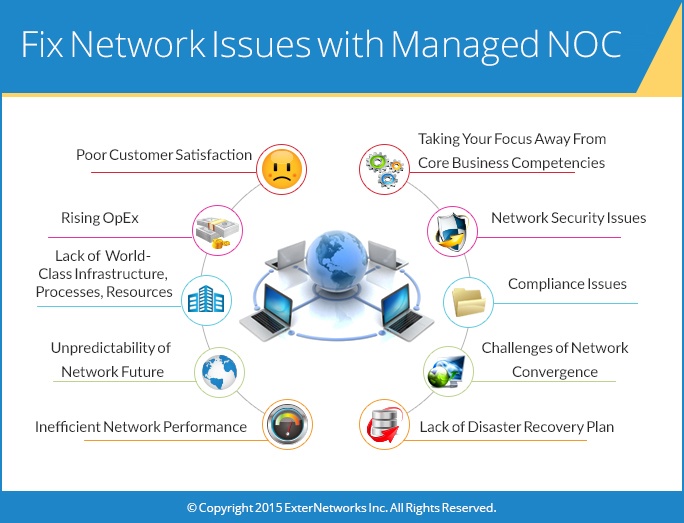 Using Managed NOC, network engineers can effectively monitor network issues and promptly address them for maximum uptime.
Network issues are an age-old problem that could cripple an organization's operations and impede business performance. This has led to the traditional requirements for companies to build a Network Operations Centers (NOC) as a part of their operations to ensure network issues are promptly managed; and systems downtime that could cost a company lots of money are kept to a minimum. Traditional NOC models come with heavy price tags and do not always work to guarantee maximum uptime. This is even more pronounced with the fact that most IT systems incorporate the cloud, and have to thrive in a landscape of continuous technology innovation and shifts. In this blog we will introduce you to the modern day NOC, and how critical it is to you in solving short and long term network challenges proactively. This will guarantee 100% service uptime cost efficiently.
Managed NOC: The modern day NOC is offered as a service by Managed Service Providers (MSPs). A Managed NOC service is designed to work as an extension of your organization's IT infrastructure. MSPs can provide a seamless experience of adding a NOC to any organization, without them actually having to invest in one. All server and service monitoring is carried out through the MSP's Network Operations Center (NOC). MSPs work with remote monitoring and management tools to ensure that your services are not interrupted during the transition.
Towards the end of this article, we will come back to look at the overall benefits you can obtain from a Managed NOC. For now, let's look at how Managed NOC can help you solve critical network issues: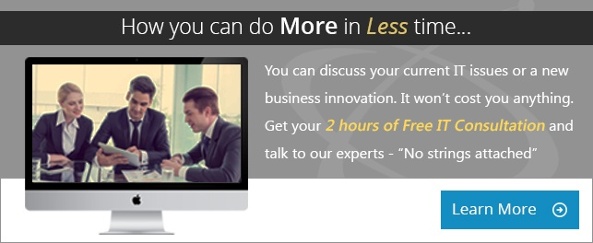 Fixing Critical Network Issues
Here is a quick snapshot of critical network issues that could bring about complex tasks and take up time from your operations.
Managed NOC gives a mechanism to guarantee constant monitoring, management and trouble resolution of your network. At the base level, a Managed NOC can identify and solve issues proactively before they can impact your business functions or productivity. It should transform your network into a utility that is similar to your power supply at home – "always on", without you worrying about maintenance and trouble management of the grid. Since this is not electricity that we are talking about, and you may already have been exposed to some of these network issues, let's look at them one at a time and see how a Managed NOC solves them:
Offering the highest levels of customer satisfaction and customer retention is the primary goal of any business. Managed NOC can help you to deliver excellent customer service, round-the-clock network operations and issue resolution as promised to your customers. Proactive monitoring, faster detection and resolution of network issues ensures that issues are curtailed at a stage where they do not impact end users.
A very large and continuously rising Operating Expenditure (OpEx) is a common challenge that businesses with large networks always experience. So, it is essential that businesses should keep the OpEx in control and remain competitive in the market. Managed NOC can help cut down your OpEx as outsourcing contracts can help to create stability and certainty in your budgets. You can directly control the cost of your Managed NOC service as they are foreseeable and can help you to consistently meet your OpEx budget.
Having the right infrastructure, system tools, processes and trained personnel in place to manage your network is critical if you are to stay competitive. It is also costly to constantly upgrade and train your IT staff. However, it is your core business function that needs focus. This is where Managed NOC can help, by providing end-to-end management of your entire network infrastructure, processes, tools and resources.
Also Read – Public Cloud and NOC Services Integration
You never know what may be the latest technological trend that may hit the network market. So, while you are busy focusing on your core competencies, you may not be able to keep up with the changing network markets, and learn the network operating conditions. The right Managed NOC partner can help your business stay current with technology, and keep your customers happy with seamless technology transformation.
It is critical to run your network at its highest performance capacity as it directly impacts your customer's business. Managed NOC tackles this issue efficiently through its comprehensive network statistics, daily reports on network health and down-time, real-time views of network performance, Mean Time To Repair, (MTTR) and planning for capacity change.
Managing large networks causes businesses to lose focus on their core business competencies. Focusing on your core business needs such as development, expanding into new markets, innovating and using technology to cut costs is vital in staying ahead of the competition. Managed NOC service can completely take care of your network operations, which will allow you to focus on your customers, and develop new business offerings.
Size of network increases the security risk from potential hackers, viruses, unauthorized access etc. While some of these issues can be handled internally, organizations need professionals to detect the vulnerabilities of their network before the attack and address them. Managed NOC surveillance tools can be used for proper and continuous infrastructure surveillance, and act on network and physical intrusions in real-time. The right MSP can proactively detect and respond to such attacks and intrusions before they can slow down or even entirely shutdown your network.
Network operations must be compliant to a host of industry and Government regulations. Operating your own network and being compliant with these regulations is tedious and costly. Managed NOC providers diligently handle regulatory compliance issues as they are continuously trained to comply with the constantly changing industry regulations and standards. You can remove yourself from the hassles of staying up-to-date with regulation changes, and keeping your network compliant by relying on the services of an MSP's NOC services.
Today, many businesses face the challenge of network convergence as more and more users exchange rich content data. Managed NOC can help businesses attain network convergence, ensure seamless operation with multiple end-user platforms, and evolving communications modes. Along with Managed NOC, Managed Network Services can also help take care of issues of certain unknown demands on network hardware, operating systems, resources and software that may be incurred due to the newly implemented technologies. MSPs can help manage network convergence without any disruption of your network services, so that your end users are not affected. Managed Network Services also maintain stringent visibility of all network elements throughout the implementation of network convergence process.
Also Read – Public Cloud and NOC Services Integration
Every business must always be aware of the threats that they face, and the pressure of carrying on 'Business As Usual'. A Disaster Recovery Plan must be in place to help your business bounce back and recover as soon as possible from any unforeseen disaster. However, designing, implementing and following a 'Disaster Recovery Plan' requires expertise, as it is a highly complex process. An MSP's Managed Network Services can provide a reliable back-up solution or a practical Disaster Recovery Plan. Managed NOC can ensure that your network is protected at all times, recovers quickly and comes back online faster in the event of a natural disaster or a critical network failure.
So, what does 'Managed NOC' really mean to you and your business?
Benefits of Managed NOC:
In a survey conducted with network professionals of over 100 businesses who rely on 'Managed NOC' services, the respondents perceived 'Managed NOC' to help their businesses achieve the following capabilities:
Sharing of labor – intensive responsibility
Upscale or downscale resources based on your business need
Increased Network Stability
Optimal Network Performance
Focus on High-value business projects
Seamless experience of owning a NOC
Better cost efficiencies
24x7x365 uninterrupted NOC services
Efficient allocation and use of existing IT resources
'Managed NOC' can help your business achieve all of this and so much more!
One of the key capabilities that 'Managed NOC' can provide your business is its ability to proactively and efficiently 'monitor, detect and solve' key network issues!
Hence, it cannot only help manage your network and all its related activities efficiently, it is also an excellent 'problem-solving' tool to help fix your network issues!
ExterNetworks is a single-source provider of Managed Technology Services that seamlessly delivers IT services by providing you access to experienced resources with specialized skills. We deploy and manage NOC services for a broad range of technologies, applications and enterprises. We implement a full range of NOC tasks such as monitoring, detection, isolation and resolution of issues impacting network performance. Proactive analysis is conducted around the clock so that we identify potential issues before they become problematic. When we identify a problem, we initiate maintenance based on advanced diagnostic tools.
Maximize Your ROI with Recruitment Process Outsourcing (Part 1) | ExterNetworks
8 Reasons to be Smart About Your Web App Development
Subscribe to our Newsletter
Get the latest content from our Managed Services Blog.
[contact-form-7 id="686" title="Sidebar Subscribe form"]
Latest Posts