With the explosion of connected devices and the massive amounts of data they produce, businesses, individuals, government bodies as well as IT staff need to evaluate their current strategy and future plans to handle, process, and make sense of this growing amounts of data.
This blog explores the implications that this ecosystem of connected devices—or the Internet of Things (IoT)—has on various aspects of business, society, the environment; contemplating the context of both business to business and the individual consumer. We will look at the impact that the IoT has on these separate, yet connected, facets of everyday life and further illustrate the benefits, as well as challenges, with real-world examples.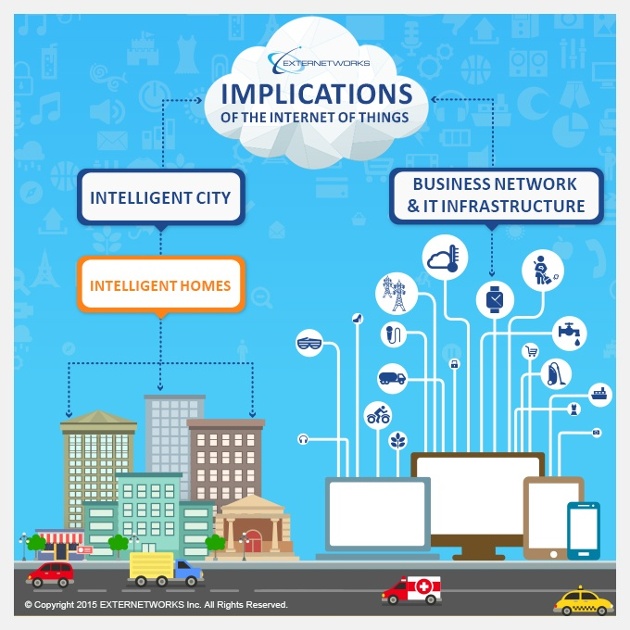 The Internet of Things (IoT)  impacts not only businesses, but also society, environment and individuals.
A CONNECTED WORLD
By 2020, it is predicted that more than 250 things will connect to the internet each second. It's not surprising then that the implications of the Internet of Things (IoT) are far-reaching and have already begun to affect what we do, when we do it, and how we do it. It will become even more interesting knowing that 99% of physical objects that may one day join the IoT are still unconnected.
In this article, we will look at how the IoT is impacting us on various levels and what that means for the future—the good and the bad—regarding human and technological evolution. At a smaller scale, there are sensors and devices within our homes – and wearables at an individual level – that can all generate useful yet copious amounts of data. And on the larger side, the IoT has also taken root in major cities around the world, including Chicago, Amsterdam and San Jose, to increase productivity and collaboration around vital components such as transportation, energy and health.
At the same time, the IoT is also having, and will continue to have, a complete stronghold over the technology that enables its millions of devices to communicate and derive value from a vast amount of information. With these unprecedented amounts of data, there are obvious concerns with data governance, the impact it will have on networks, and how to maintain the necessary security.
CONNECTED DEVICES, HOMES & INTELLIGENT CITIES
With the advent of the IoT, we are starting to see how it is affecting our personal lives—from lighting that adjusts to our mood, based on vital signs read through a smart watch, to cars equipped with sensors that 'talk' to each other if they get too close and automatically course-correct to avoid a collision.
Here are some examples of device groupings that make up the connected home:
Smart thermostats: A good example is Google's Nest, which can be controlled from afar and learns heating and cooling preferences over time, without any programming.
Smart lighting: such as Philips' Hue, which is used therapeutically at home as well as in hospital environments.
Connected appliances: like an LG smart refrigerator, which lets you know when things have spoiled and what needs replenishing.
Smart security: as with Canary, a home monitoring system, which adapts to household traffic patterns to provide alerts regarding unusual activity.
Wearables: Devices such as Fitbit, which track and monitor physical activity from running to sleeping, are somewhat ubiquitous, yet undoubtedly part of the connected home ecosphere.
On a bigger scale, the technology-enabling intelligent cities is underway and there have been incredible technological advancements to help increase efficiencies surrounding the following key sectors:
Transport – Leveraging connected technology in Singapore to alert motorists of traffic accidents on major roads as well as GPS-enabled taxis, which monitor and report traffic conditions around the city to alleviate congestion.
Energy – Cities like Copenhagen, where solutions are being developed to coordinate electricity and heating systems as well as to automatically pool and share energy sources as needed.
Health – Barcelona is implementing its own IoT-driven services to improve the quality of life of its people through measures that promote an eco-friendly, sustainable environment.
Water – Smart metering in the city of Melbourne, Australia, which uses real-time data to quantify the amount of water being used so citizens can adjust their behavior.
Waste Management – Forecasts and alerts when waste or recycling containers reach capacity in Helsinki, Finland, to avoid littering and clean-up costs.
With all the implications that the IoT has on our everyday life as well as those around us, it's also important to make note of the underpinning technology that is required to connect these devices and the benefits they offer. In terms of governance, who or what is actually overseeing all this data? How will it be accessed? What security measures are in place and how are they being administered? What impact will it have on networks transmitting all of this potentially hackable and sensitive information?
HOW THE IoT IMPACTS YOUR BUSINESS NETWORK & IT INFRASTRUCTURE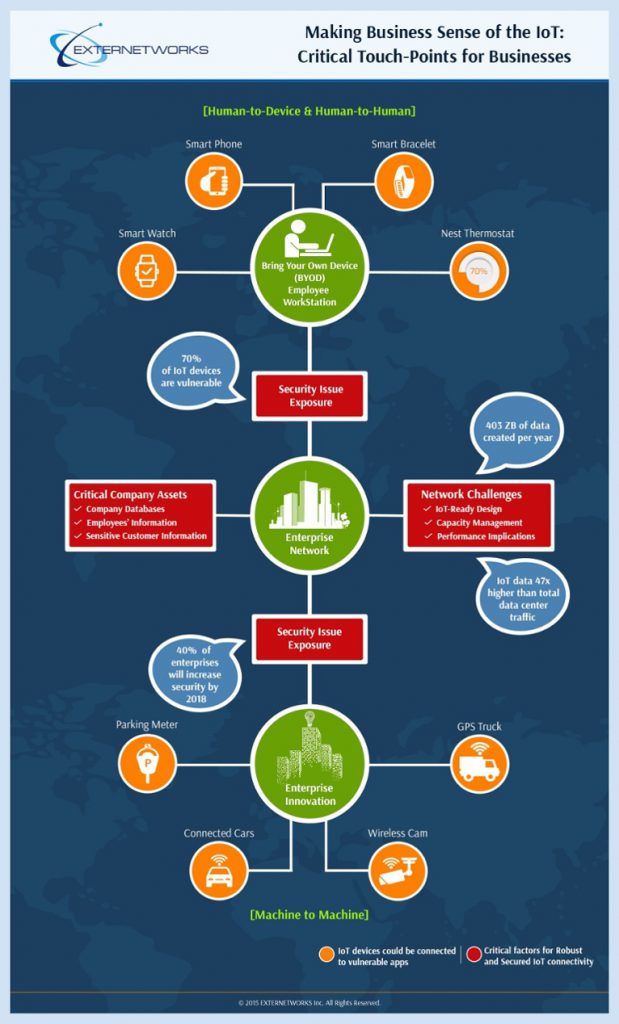 The sheer volume of data created by the IoT—from devices in your home to city infrastructure—will have an unfathomable impact on the networking systems used today, and managing them will be equally challenging. All the traffic these connected devices generate now shares the same networks as desktops, tablets, and smartphones—all of which use social media, email, apps, download content, and so on.
According to Cisco Global Cloud Index: Forecast and Methodology 2013-2018 White Paper, "Globally, the data created by IoT devices will be 277 times higher than the amount of data being transmitted to data centers from end-user devices and 47 times higher than total data center traffic by 2018." This data will reach 403 ZB per year (33.6 ZB per month) by 2018, up from 113.4 ZB per year (9.4 ZB per month) in 2013.
If we start at the very foundation of the IoT, a robust network is needed to handle the growing influx of data it transmits. Not only does it require agility and flexibility, it also has to be secure. Without a network that can meet these demands, it becomes a challenge to derive value from all aspects of the IoT.
Data analytics
When we look at the benefits derived from the IoT across several industries, the need and demand to make sense of this data is paramount. While there is a significant increase in demand for business intelligence across the board, there are backend implications on the network that need to be planned for and addressed. The sheer volume of data that needs to be analyzed will increase the motivation toward a cloud-oriented data center, as efficiently moving data to the cloud and garnering actionable insights become very critical tasks.
Agility
The IoT presents another challenge when it comes to flexibility and scalability of accommodating for the incumbent onslaught of data. An agile framework is required to handle the increase in demand, while also supporting the mining of actionable insights. This puts a lot of pressure on networking and resources, but with the right cloud solution and oversight in place, there's the opportunity to grow just as much as your data does.
Security
If we look at security and privacy—and the increase in connected, yet disparate systems and devices in the IoT—there are several tiers of surface complexity that make it easier to infiltrate and manipulate data. The increasing heterogeneity, mobility and interoperability of the platforms we use every day are growing by the minute and lead to an expanding 'attack surface'. This requires proactive measures to be taken to ensure optimal security, and the integrity and privacy of sensitive information is intact.
CONCLUSION
With the rapid proliferation of the IoT, we are seeing more and more devices becoming connected through sensors—at the individual level to places of residence and even cities. When we look at smart homes, there have already been significant benefits derived from the IoT with solutions and devices that help you save energy, increase security and make life easier. The same goes with intelligent cities, which empower citizens at the individual and organizational level to contribute and assist in making cities more efficient, productive, safe and healthy.
While these innovations and technological advancements undoubtedly have a positive impact on our everyday lives, there are also implications that we must keep in mind with the explosive growth of data in the IoT. When we look at handling these massive amounts of data, the backend effect and strain on the network continues to be amplified, and the case to move to a cloud-oriented infrastructure becomes more attractive and affordable. At the same time, the impact on networks also makes agility a serious consideration when looking at the IoT. Companies need to be flexible to handle unpredictable workloads and this is yet another pro when looking at cloud computing as the answer. A third implication has to do with having the proper security measures and policies in place, with data and devices becoming more exposed.
With all of this taken into consideration, moving toward the cloud is increasingly becoming the norm, and makes the most sense, when it comes to effectively managing the impact the IoT is having on businesses. That said, making the move to the cloud requires proper guidance, oversight and management to ensure things run smoothly, and that your business can focus on growing its customer base and remain relevant in a fiercely competitive market.
Get more on the implications of IoT and the impact it could have on you business by downloading the eBook: "Making Business Sense of The Internet of Things"

HOW EXTERNETWORKS CAN HELP
As the demand for connected devices increases within the IoT, Managed Services Providers (MSPs) can help businesses become IoT ready (#IoTReady). The objective is to enable you to leverage IoT technologies to: (1) make innovative products and services for new revenue streams; or (2) develop business models for production and operational efficiencies that delivers scale and net cost savings; and (3) maximize performance while staying secure.
ExterNetworks delivers customized solutions for IoT-readiness:
Consulting and Professional Services – Tailored approach that cut through the hype and laser focus on the right IoT technology makeup that aligns to your business objectives. We will assess the health of your current infrastructure to ensure you have the right capacity and security framework to thrive in an IoT world. You will get a comprehensive systems design and operational recommendations to ensure you derive optimal ROI from IoT adoption.
Systems Integration – Leverage our manpower and wealth of technology expertise to deploy your IoT systems. We are vendor agnostic and integrate across multiple platforms with an objective to give you a seamless operation across you entire infrastructure. This way you get optimal performance, the best quality of experience and business results.
Managed Security Services (MSS) – Use our world-class network operations center (NOC) sophisticated monitoring and management tools to ensure 24×7 service uptime. Our MSS includes 24×7 monitoring and management, overseeing upgrades, performing security assessments and security audits, and responding to emergencies.
How to Make Business Sense of the Internet of Things (IoT)
Data Center Optimization to be IoT-Ready
Subscribe to our Newsletter and
Never Miss a Post!
Get the latest content from our Managed Services Blog.
Subscribe
Latest Posts