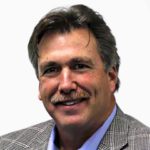 Network Operations Center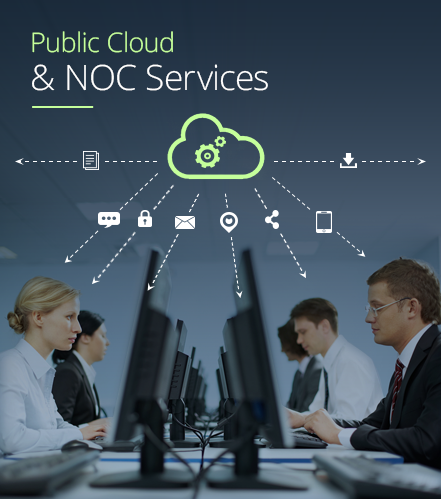 Managed Public Cloud and NOC Services Integration

A managed public cloud provider must pay careful attention to security in the cloud, isolation and processes while offering significant cost savings. Deploying a public cloud gives your business a huge advantage on high availability and manageability. However, your infrastructure must still be monitored and managed. In a managed cloud services set up, MSPs provide customers with backup, monitoring, troubleshooting and managing endpoints such as desktops, servers and mobile devices. However, monitoring and managing these end points along with other services amounts to only half of the job. Below are some of the key services that MSPs must offer:
24x7x365 Monitoring and Response
Fully monitor servers, system resources, public cloud computing-specific metrics, and common applications such as web servers and databases
Maintain detailed processes and centralized logs for quick troubleshooting
Provide special monitoring for cloud resources such as database services, load balancing, and data warehousing
Adhere to response time for critical events, with regular updates until resolution
Ensure that Tier 3 support is provided by the public cloud provider with special routing and handling
Follow special handling instructions for predefined events per client's instructions
Provide access to tickets portal and phone number with routing specific to a client's account
Proactive Management
Perform server updates and other routine maintenance tasks proactively
Deliver actionable information to provide visibility on network performance management
Handle special user-requested maintenance tasks
Manage automated backup of server images and other routine backup tasks for disaster recovery
Monitor application performance with optional services such as Analytics
Provide access to knowledge centers with documentation that is specific to clients
Customers need tailored services to meet and benefit from the cloud and NOC service requirements. These business services go hand-in-hand, and if managed efficiently, they deliver highest ROI and operational efficiencies to clients.
A key catalyst to drive the pairing of public cloud and Managed NOC is that, in many cases, as companies move to the cloud, they gain operational efficiencies and do not have the need for extensive resources in their offices to watch their IT systems. They can conveniently maintain just a critical number of IT staff during regular hours and have a NOC MSP cover the off-hours. Or, they can totally outsource their NOC and set-up their IT Managers to focus on design issues and technology roadmap; with minimal distractions to handle minor escalations. Smart CIOs and IT Managers are leveraging this model well in working with MSPs to supplement their public cloud environment to gain the highest ROI reliably and securely; in some cases they are even able to offload the burden of service level guarantees to the MSP. Below is a quick glance of how an AWS VPC environment is managed from a NOC.
Cloud Computing Case Study: Manage AWS & High Availability Applications with Rapid Response
Here is a typical list of tasks that you will find in a shared Managed NOC environment where Level 2 (L2) and Level 3 (L3) is mostly managed by the business' IT staff and general monitoring, Level 1 (L1) monitoring, system management and ad hoc tasks are done by a Managed NOC MSP:
The scope of application management will only include coordinating with the OEMs like Oracle, Microsoft, and other appropriate teams.
Shared team of specialists operating from a managed NOC location while proactively monitoring and managing the cloud 24×7.
Monitoring of Datacenter infrastructure on various parameters – CPU usage, Memory usage, Storage usage etc. with the help of Manage Engine or other EMS tools to ensure that the infrastructure is up and running with minimum outage.
In the event of an outage or a performance threshold violation, a NOC agent reports back to the NOC expert team at the service desk.
The monitoring tool automatically logs a service desk ticket for the event.
Monitoring Engineers/NOC expert team (L2/L3) and Backend Resources log into the servers for implementing changes, problem management, housekeeping tasks and service requests.
Once AWS cloud is up and accessible over LAN/WAN, the NOC team/Backend team takes ownership of the virtual machines. They maintain and administer the virtual machines.
Health checks are performed on all the VMs including OS, cloud resources etc.
Live protocols are monitored using monitoring tools (Manage Engines)
Live services are monitored for all servers.
Incident tickets are created and escalated for every threshold violation.
Installation & re-installation of servers/OS
Backup as per defined procedures.
Preparation of daily/weekly/monthly checklist.
Event log is analyzed at regular intervals for maintaining the integrity of database/servers.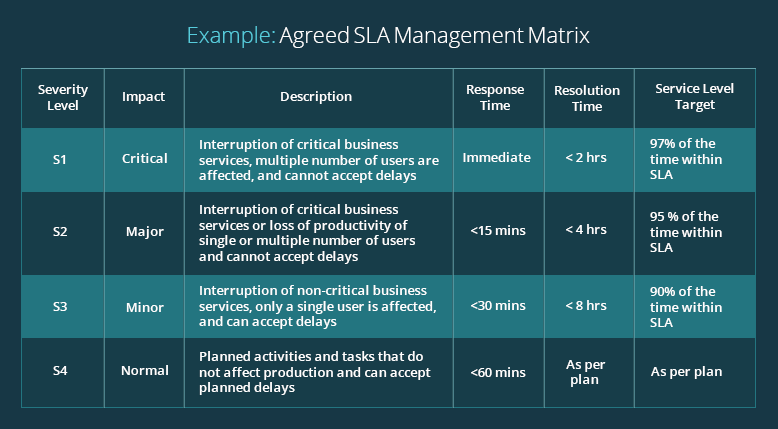 Agreed Service Level Agreement Management Matrix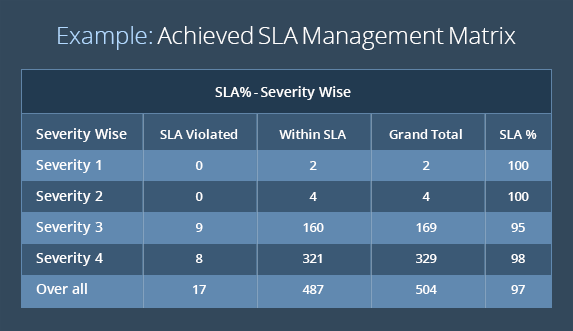 Achieved Service Level Agreement Management Matrix
ExterNetworks seamlessly delivers managed IT services by providing you access to experienced resources with specialized skills. On a daily basis, we deploy and manage services for a broad range of technologies, applications and enterprises. We implement a full range of monitoring tasks, including detection and isolation and resolution of issues impacting network performance. Proactive analysis is conducted around the clock so that we identify potential issues before they become problematic. When we identify a problem, we initiate maintenance based on advanced diagnostic tools.
Contact us today to realize the benefits of a single source provider for your Public Cloud and NOC services. You can also reach us at Twitter, Linkedin, and Facebook
The Case For Detaching Recruitment From HR & Retention Management
Identifying The 'Right Recruiting Company' To Maximize Your Talent Investment
Subscribe to our Newsletter
Get the latest content from our Managed Services Blog.
[contact-form-7 id="686" title="Sidebar Subscribe form"]
Latest Posts