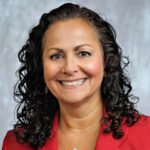 Globalization has created a highly competitive market for both big and small businesses to thrive. In such competitive times, no business can afford to lose out on opportunities, customers, sales, revenues, etc., due to unplanned outages such as a natural disaster. Hence, every organization's IT system needs to be up and running at all times and so, implementing a proper Business Continuity and Disaster Recovery Plan (DRP) is a must for every organization.
In this blog, you will understand how implementing a Business Continuity Plan (BCP) is crucial for a business. The blog also explains how Managed Services provides businesses an affordable and manageable way to ensure non-stop business operations and total data protection without additional IT infrastructure and staffing costs.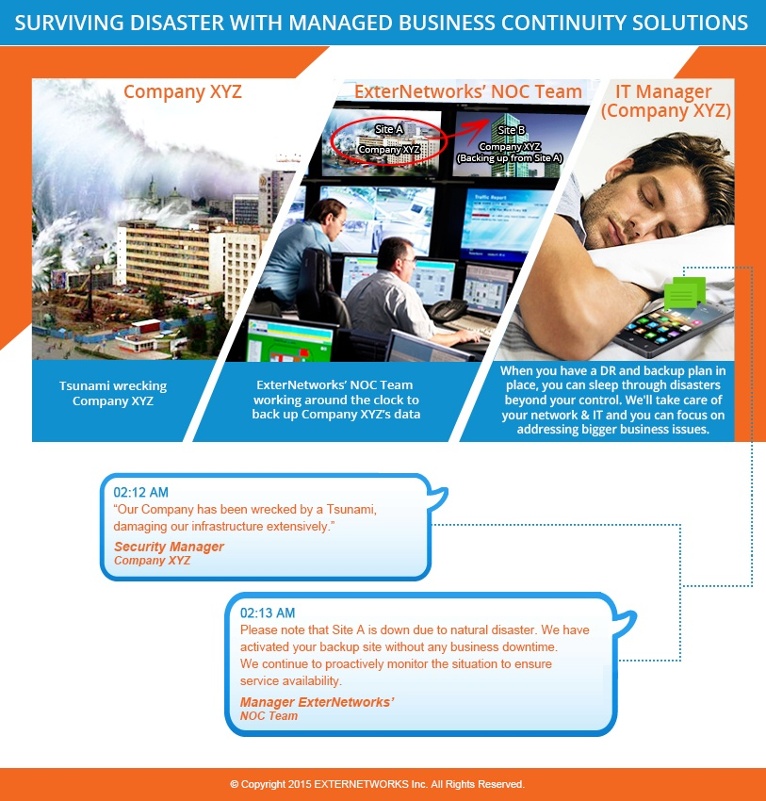 Business Continuity Solutions helps you successfully manage any kind of disaster.
Consider what happens when your IT systems go down, even for an hour – you lose all communication with your business partners, customers, employees, etc. How would you deal with such a situation? More importantly, do you know how much such unplanned outages would cost you in terms of lost opportunities?
For these unforeseen situations, you must ensure that you have a BCP (Business Continuity Plan). Apart from the usual technical issues that your IT system faces, there are several other natural calamities, such as hurricanes, winter storms, typhoons, tsunamis, and earthquakes, which might disrupt your business functions. Can you really afford to shut down your business even for a day?
This blog will help answer several of your questions such as:
What's your BCP and strategy for handling any sort of interruption to your business functions?
Can your employees, customers, business partners still carry on working or doing business with you in case of natural disasters or unplanned outages?
Do you have the systems in place to protect your critical data and use it from different locations, if necessary?
Many organizations today have identified the need for using Managed Services Providers (MSPs) for their Disaster Recovery (DR) and BCP. Read on to find out more…
What is Business Continuity?
So, what exactly does Business Continuity entail?
Understanding business continuity is quite simple. For instance, if a natural disaster strikes your organization rendering your IT systems down, will your system recover and, if so, how quickly? More importantly, at what cost? Are you prepared to keep your business running at all times, or, in other words, ensure business continuity?
Some alarming statistics about Business Continuity Planning and Disaster Recovery of small-to-mid-sized business (SMB) emerged to the forefront in a study conducted by Gartner Technology Research. According to the research, it was revealed that:
After a data-loss disaster, the average cost of downtime for a SMB is $12,500 per day.
The typical SMB suffers about six computer outages within a 12-month period.
Only 23% of businesses backup their critical data daily.
Among those businesses that do have a disaster preparedness plan, only 50% of them implemented the plan following a network outage or loss.
(Source: Gartner Technology Research)
It is crucial for every organization to have a BCP because disasters can strike at any time and to anyone. Hence, the key is to remain prepared to quickly recover from any disaster and bring the business services back into action as early as possible.
Every organization needs to understand that it cannot afford to skip having a BCP. Also, it is important that the organization efficiently implements the plan and knows how much it must spend to implement such a plan. A BCP must be customized as per the needs of the organization and it is not a 'one-size-fits-all' solution.
An MSP is effectively equipped to chalk out a customized BCP and a Backup and Disaster Recovery (BDR) solution for your organization. An MSP's Business Continuity Solution (BCS) can ensure that your business doesn't get disrupted in the wake of any kind of disaster or emergency. BCS can provide your organization with a preparation plan to protect your critical data even before a major incident occurs. An MSP's offerings can also help quickly restore your network, following any unplanned downtime, to optimally operate your business.
Managed Services
It is imperative in today's world that your IT systems and network remain operational at all times. IT or network downtime is not an option due to increased accessibility at all times.
Most organizations today have realized that though it is possible to manage their own networks to ensure business continuity at all times, it is not the easiest or a cost-effective solution. Thus, a cost-effective way for organizations to manage and keep their IT systems running at all times is to let an MSP take care of the day-to-day operations and management.
An MSP will keep your IT systems, and hence your business, running at all times by ensuring that your critical IT assets and data are proactively protected at all times, even in the wake of a disaster. You can focus on your core business as the MSP takes care of your complete IT systems.
How Managed Services Helps in Business Continuity?
An MSP ensures that your organization's networks and applications are properly monitored and maintained through its offerings. It provides expert resources to take care of your systems, ensure optimal management with improved ROI and reduced downtime.
MSPs use state-of-the-art management tools to monitor and manage your IT environments. An MSP's BCP includes excellent BDR solutions to ensure that your business continues to remain operational in spite of outages, regardless of power, weather, or other disruptions due to potential natural disasters.
So, how exactly does an MSP help your organization in Business Continuity? What does an MSP do when a disaster strikes its client organization? Let us try to understand this through an example.
Company XYZ has appointed an MSP to offer BCS to the company. The MSP monitors XYZ's software applications, IT systems, and technical services round-the-clock (24x7x365).
Now, let's assume that a hurricane has hit one of the work sites of XYZ, completely wrecking its IT systems. When a disaster strikes or an outage occurs, the MSP is immediately notified. The MSP quickly isolates and resolves the problem. Simultaneously, the MSP also notifies the designated Points of Contact of Company XYZ. All the communication happens in a coordinated manner as per the agreed SLAs.
Since Company XYZ's primary work site is down due to the hurricane, the MSP immediately activates the backup site, without any business downtime. The MSP also continues to monitor the situation to ensure service availability to their client's business at all times.
Following are some of the major activities that an MSP can carry out as a part of its Business Continuity and Disaster Recovery Solutions (DRS):
Ongoing Protection: As a part of its Business Continuity and Resiliency Solutions, an MSP's Cloud Replication Service protects your business by fully replicating your critical servers to a secure hosted cloud environment. All of your supported applications, end-user data, and operating systems are made accessible using a secure and 24×7 available cloud-hosted environment.
Failover: When a disaster or any kind of outage or a complete site loss situation hits your IT system, the MSP's Cloud Replication Service automatically redirects data and users to the cloud-hosted replica servers. These replica servers then operate in failover mode for the duration of the downtime event.
Failback: This process ensures a quick and uninterrupted transition so that your users can continue to work and access applications and data without disruption.
What Services Does a MSP's BCS Include?
DR and BC operations mainly include handling of day-to-day IT interruptions, major IT disasters, security, 24×7 monitoring, cloud backup, exchange, business continuity, 24×7 IT help desk support, and onsite services as needed.
Let's look at some of the major services that are a part of an MSP's BCS.
Security:
An MSP is completely responsible for the security of your IT infrastructure, protecting it against threats, both internal and external. MSPs continuously monitor your hardware and software 24x7x365 for any security threats and carry out remote monitoring and system backup.
Server:
A system crash, such as a server crash, can stop your business in its tracks. MSPs offer several kinds of backup solutions that regularly back up the critical data on your servers. These backup solutions include off-site storage, local backup, cloud backup, object-level exchange restore, dedicated local appliance that incorporates local backup, or local and cloud server business continuity options.
Such backup solutions can help you replicate your servers and virtualize your entire server infrastructure from a cloud datacenter. Your users can then access your IT environment even with the loss of your local servers and the downtime is almost negligent.
Cloud:
MSPs' cloud business continuity services ensure continued business operations when your chief IT systems are not operational. Such cloud backup and DR services offer you a low-cost, scalable and secure offsite location to store-critical business data.
24x7x365 Help Desk:
Another important service that MSPs offer as part of their BCS is 24x7x365 help desk support or IT support. Such a round-the-clock help desk helps your organization with the IT support it needs, including weekends and holidays.
Also Read :Business Continuity Through Managed Network Services (MNS)
Benefits of Using Managed Services for Business Continuity
Keeping your business running even in turbulent times is in itself a great benefit that MSPs provide to your business. Apart from this great benefit, there are several other direct and indirect benefits that an MSP can provide to your business:
Making Business Continuity Easier:
It is very difficult to maintain and execute effective BCPs and DR strategies. This becomes especially challenging if you do not have the requisite expertise or if your IT resources have already been stretched to its limits. MSPs provide the necessary expertise to help you plan and implement a BCP and DR strategy that suits your unique organizational needs. Subsequently, you can also monitor MSP's services to:
Check and ensure if your BCPs and DR plans remain effective and ready
Monitor and report the health of your network and applications
Ascertain that you are compliant with industry and regulatory standards.
Reduce Your IT Costs and Losses:
MSPs can provide support to your IT staff to deliver a secure and high-performance network. They can also help reduce both upfront and ongoing IT infrastructure costs, and minimize the potential impact of downtime through various ways such as:
Reduce costs by doing away with the need to maintain off-site server facilities
Eliminate networking headaches for your IT staff to focus on core IT activities across the enterprise
Reduce your hardware and software purchases, and hence your total cost of IT ownership by providing cloud-based replication of servers and applications
Ensure that fewer work hours are lost through faster and more efficient recovery times
Ensure customer loyalty by maintaining service continuity, which means higher sales and revenues
Help you use the assets that can be leveraged in marketing and help build your business reputation and credibility
Help you deliver customer excellence, which, in turn, strengthens customer loyalty and generates higher sales and revenues
Defend your bottom-line by keeping your employees connected and productive at all times by delivering quality service.
Shield Your Data when Disaster Strikes:
MSPs provide your business with unique security and backup features to keep your data and network protected at all times.
They also ensure that your IT business remains compliant with all industry guidelines and regulations.
You can rely on MSPs to be compliant to communication standards that must be followed after power blackouts and other disasters.
MSPs store your important data, or even physically house your servers at their state-of-the-art data centers, for an added level of protection.
Increase Your Network ROI:
Managed Business Continuity services can help you take greater advantage of your existing IT investments.
They can help your business reach powerful networking and storage capabilities without incurring significant costs.
These unique security features help protect your IT infrastructure and network from disruption and hence, save you repair and maintenance costs.
Reduce Network Disturbances and Downtime:
A successful BCP takes complete care of your networking and IT infrastructure and supports it.
MSPs help enterprise networks to be ready with secure, scalable capabilities and applications. This will help protect your business from service interruptions and allows quick recovery.
In case of a disruption or disaster, MSPs are fully-equipped to restore your business-critical applications and data within minutes through their advanced security and backup features.
Stay Productive at All Times:
Managed BCS will efficiently provide your business with everything you need to keep people working during a crisis, such as:
Offsite hosting and network facilities that are accessible even during power outages.
Deliver instantaneous availability of applications and data through Cloud Replication Services during a crisis or network downtime.
Dynamic re-routing of voice connections in real-time.
Rich network features that speed up recovery times.
Allow access from home or remote locations by providing collaboration, instant messaging, and mobile capabilities.
Defend Your Business Reputation:
MSPs defend your business reputation by implementing an end-to-end business continuity and DR plan. Loss of business continuity can not only harm your bottom-line, but can also tarnish your business reputation through the following:
loss of sales revenues or customers, who can damage brand reputation
lost business opportunities and work hours during and after the crisis
disgruntled stockholders, customers, and business partners
loss or leakage of critical data
penalties and potential litigation from regulatory agencies
supply chain interruptions that affect your customers, vendors, and distributors.
Other Benefits:
MSPs can also re-design your network for better and flexible opportunities that provide greater efficiency and satisfy bandwidth demand
Your IT resources can focus on improving service quality, integrating new technology, and working on strategic projects, allowing employee mobility, and other productive services
MSPs can provide 24x7x365 network monitoring services so that your business enjoys faster responses to network events and quicker restoration service to a troubled network
MSPs provide you with complete end-to-end BCS or in part, based on your business requirements
Your business can enjoy business continuity through a simplified backup process and full cloud-based replication and recovery process.
ExterNetworks is a single source provider of end-to-end Business Continuity and Disaster Recovery Solutions. We seamlessly deliver Business Continuity services by providing you access to experienced resources with specialized skills. We operate through our two state-of-the-art NOC centers located in New Jersey, U.S.A., and Hyderabad, India. We implement a full range of NOC tasks such as proactive monitoring, detection, isolation and resolution of network issues impacting your business and its processes. We carry out 24x7x365 proactive analysis to identify potential issues much before they pose a problem to your business. We deliver continuous availability for your mission-critical applications. We also initiate maintenance, based on advanced diagnostic tools, when we identify a problem and help improve service levels by quickly identifying the root cause of incidents.
How To Get 24X7 Support And Increased Output By Outsourcing
Attack of the Unknown - Advanced Persistent Threats (APTs)
Subscribe to our Newsletter
Get the latest content from our Managed Services Blog.
[contact-form-7 id="686" title="Sidebar Subscribe form"]
Latest Posts