Managed Services has seen a tremendous growth in the past three years. Organizations today, whether big or small, have realized the benefits of letting an expert Managed Services Provider (MSP) monitor and manage their IT requirements. This could include  networking, digital security, Cloud, Wireless Networks and much more. With the increase in competition, it becomes crucial for MSPs to create strategic partnerships by adding value to their service offerings. This blog talks about how and why MSPs need to move to the new model – MSP 2.0 and how it will drive sustainable income and profits for MSPs.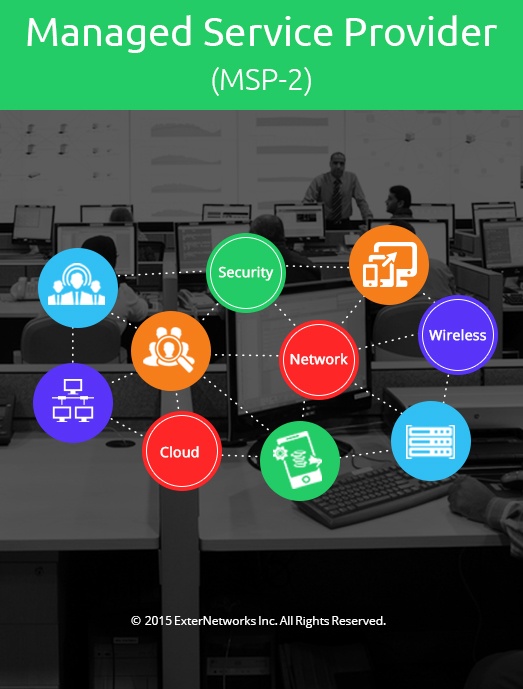 MSP 2.0 will help MSPs drive sustainable income, profits, and growth
IT, now more than ever, is undergoing a phase of revolutionary shift. Organizations today have accepted the concept of Managed Services and many today use services such as Mobile Device management, Advanced Security Solutions and so on. This has opened the doors for cloud-based services and applications such as Microsoft Office 365, Storage/backup and Infrastructure services (IaaS).
Managed Services were perceived with greater skepticism at its start. Today, organizations have accepted that Managed Service Providers (MSPs) offer their business a safe, reasonable and cost-efficient way to manage IT. As the adoption levels of Managed Services increased, MSPs grew in confidence and ventured into new service offerings.
The first generation MSPs (MSP 1.0) cater to a wide range of managed services in networking, security and storage. Most of the customers need MSPs to take care of their day-to-day IT operations to save time and effort on core strategic business operations.
To be on par with the evolving technology landscape, MSPs must adapt to the changing needs of their customers. However, most of the first-gen MSPs fulfill only the basic IT needs of their customers. With increased competition, customers today have more choice than ever to choose an MSP who can offer low prices, enhanced services or a deeper and more attractive value proposition. This surge of competition has led to the advent of the MSP 2.0 business model. MSPs today need to transform their processes and service offerings to the MSP 2.0 model, otherwise, they risk losing their existing customers and their business too. MSP 1.0 must evolve to MSP 2.0 and beyond. Read on to find out what lies on the road to MSP 2.0…
Shifting to MSP 2.0
The first place for MSPs to start on the path to adopting MSP 2.0 is to tailor their services to meet the needs and strategic objectives of their customers. This change is something similar to the one that happened in the past when B2B resellers moved from selling simple products or services that catered to a specific business need to offering complete customized solutions that helped their customer achieve their business goals. Thus, the B2B resellers have transformed their services and products to become 'value-added resellers'.
Therefore, 'value proposition' is a key element that MSPs must focus on while developing their services in adherence to the MSP 2.0 business model. MSPs must offer services that will help their customers to stay ahead of competition and deliver their products with a faster time-to-market. To achieve this, MSPs must provide tailor-made services that fit the customer's needs. In other words, the MSP must have a suite of services that can be quickly customized to the varying customer requirements that must be capable of evolving when the need arises.
The path to becoming an MSP 2.0 will not only require a paradigm shift in how MSPs conduct business but also in terms of delivering real 'value' to their customer's end users. MSP 2.0 goes beyond managing the IT tasks of customers on a daily basis and focusing on and marketing and selling the existing services. The primary objective of MSP 2.0 is to help the MSPs focus their efforts on delivering services that help their customers deliver high-quality and improved products and services to their end-users.
How to be a MSP 2.0 provider?
There is no fixed one-size fits all solution that can define as to what the MSP should offer to their customers to follow a MSP 2.0 model. Let us look at a few ways that would help MSPs to develop and offer a range of services while adopting MSP 2.0:
MSP 1.0 providers usually offer high-volume of services from which customers can choose à la Carte. However, the MSP 2.0 provider should offer flexible, customized solutions that address the specific needs of its customers.
MSPs should try to offer innovative services through a focus on strategy, planning and, long-term optimization.
When MSP 2.0 providers host and/or manage commodity cloud services along with other tools and platforms for their customers, they should focus on offering these services in the context of a larger, industry-specific portfolio of services.
MSP 2.0 providers should be a strategic partner and true consultant for the customers and help open up avenues for greater overall value generation.
MSP 2.0 providers should continuously evolve their offers and solutions to adapt to changing economic forecasts, strategy alignment, organizational needs, talent trends, and globalization.
MSPs can look for opportunities to partner with forward-thinking companies and then try to develop innovative practices and new strategic initiatives contrived to assure continuing value generation.
MSP 2.0 should offer services that would surpass the thin lines separating Managed Service Provider (MSP), Value Added Reseller (VAR), and Communication Services Provider (CSP) by offering services to deploy and manage physical infrastructures, provide on-premises data center resources and offer proprietary-hosted software.
Goals of MSP 2.0
MSP 1.0 purely aims to fulfill certain specific goals by following tactical objectives. On the other hand, MSP 2.0 aims at a more strategic approach, characterized by systematic consideration, dynamic design and shift by:
Examining the true costs of output
Offering agility through delivering customized solutions to customers
Fostering strong relationships with customers
Offering long-term solutions to meet customer needs
Forsaking the one-size-fits-all mind-set
Optimizing technology
Positioning a changing strategy for achieving overall customer goals for globalization, total management, and mix modeling
Not trying to fit all customers into a narrow set of solutions and tools
Maximizing risk moderation
Committing to delivering lasting value to customers, while ensuring ongoing revenue streams
Understanding the processes, people, and holistic business needs of the customers
Enhancing solutions for strategic growth of customers' business
Enhanced specialization and domain expertise to help build a solid customer base in niche or vertical markets with specific needs and regulatory requirements
Reviewing new models for pricing
Maintaining all-inclusive systems, tools, and portfolios to cater to the needs of a specific industry while fending off competition
What Next after MSP 2.0?
The future of MSP 2.0 and the road thereafter is full of immense growth potential due to the growing interdependency between services hosting companies, MSPs, and end-user customers. After MSP 2.0, in the future, MSPs can hope to see more sharing of strategies, collaboration, and joint planning between the MSP and the customer where both will endeavor to help each other improve and do things better, smarter, and faster.
It is but natural that the future would also see the advent of new waves of technology that would change and interrupt the market dynamics yet again after the World Wide Web (WWW), the Cloud, and the Internet of Things (IoT). The solutions offered by service providers would be greatly influenced by and there may be some convergence of roles within the services due to the increasing complexity of end user profiles, individual requirements, and growing interaction between work and personal lives.
ExterNetworks is a single source provider of end-to-end Managed Services. We have embraced the MSP 2.0 model to seamlessly deliver Managed Services by providing you access to experienced resources with specialized skills. Keeping in tune with MSP 2.0, we offer customized solutions as we do not believe in the one-size-fits-all mind-set. We act as an extension of your organization and a strategic partner to provide complete care for your IT requirements. This includes deploying and managing services for a broad range of applications, technologies and enterprises. We help open up newer avenues for your business, leading to overall value generation. We implement a full range of tasks such as proactive monitoring, detection, isolation and resolution of network issues impacting your business and its processes. We carry out 24x7x365 proactive analysis to identify potential issues before they can pose a problem to your business.
Adopt Managed NOC as a Comprehensive Solution for Network Operations
How to Make Business Sense of the Internet of Things (IoT)
Subscribe to our Newsletter and
Never Miss a Post!
Get the latest content from our Managed Services Blog.
Subscribe
Latest Posts