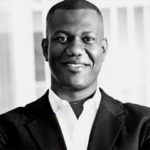 ExterNetworks' Chief Marketing Officer & President Offers Valuable Insights on Scaling & Adapting Operation Model for Rapid Business Growth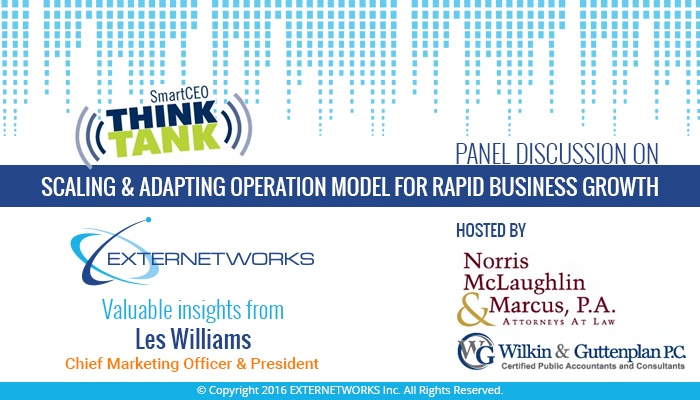 GUESTS: David Buchwald, Les Williams, Caryn Kopp, Sunil Laxmichand Gudhka, Brian P. Sullivan, Barry Skoultchi, P.E., H. Edward Wilkin III
PRODUCED BY: Norris McLaughlin & Marcus, Wilkin & Guttenplan, P.C
MODERATOR: Bob Gabrielski
ExterNetworks was awarded the prestigious '2016 NEW JERSEY FUTURE 50 SmartCEO Award,' on February 18, 2016. SmartCEO and Norris McLaughlin & Marcus, P.A. gathered a cross-section of the 2016 New Jersey Future 50 winners for a 'Think Tank Discussion' on 'Adapting your operation model for future growth' where the panelists were asked about how their organization scales its operations for growth. The panelists discussed various strategies that their organization employs to keep up with fast-pace growth. Les Williams, ExterNetworks' Chief Marketing Officer & President, was one of the panelists in the discussion who shared strategies that ExterNetworks uses to outpace a growing competitive landscape. Here is a summation of the excerpt from the conversation that Les had with Bob Gabrielski, the moderator of the discussion.
Bob Gabrielski (Moderator): How do you know when it's time to scale the operations of your business? In the context of that, what metrics do each of you watch or look for in the beginning to make decisions about how you might consider scaling up or what kind of assets you might need to do that?
Les Williams: We are in the technology management business and we see that, for every business, technology is a competitive advantage. If you look at the global economy, the FANG stock companies (Facebook, Amazon, Netflix, and Google) heavily leverage technology to outpace the competition.
For example, Uber has used disruptive technology to gain a competitive advantage in the market. In our space, we strongly consider what the market is doing, internally assess our operations and product offerings to see how we can scale to meet market opportunities and take advantage of them.
As a technology service provider, we design, implement, and provide ongoing support. We regularly review our in-house tools to ensure that they are up-to-date to manage the technology of today and that of the future.
We look at our internal metrics to analyze and understand whether we are getting the best visibility into the customer's environment. Some of the questions that we ask ourselves are – what are the new technologies and metrics that they care about and do they make business sense for them? How do they cut through the noise of imagined technology and use that information to get business value out of it, and what role are we playing in it?
On a quarterly basis, we benchmark ourselves to check if the tools that we use for network monitoring are still sufficient. If we find significant gaps, it indicates the need to scale. We then have to work out a business case to decide whether we would build the capability ourselves, acquire the technology, or partner with other providers matured in that space for the most optimal route to market.
Then, we take a look at our operational structure. Have we structured ourselves to deliver optimally to the customer? Our promises of 100% uptime and service availability are critical metrics when it comes to technology and telecommunications. Therefore, we measure our performance against these metrics. If we begin to see small failures in the system, we may need to assign an additional resource at various positions (for example: If we ask for extra work time from employees to ensure that our delivery commitments are not missed or maybe there is a slip in an acknowledgement timeline, we know we have peaked our resources and need to scale).
Alternately, we may need to acquire new skills or rework the organizational structure to meet new demands such as Software Defined Networks (SDN), Business Process Automation, Advance Scripting Capabilities for network and Infrastructure Management, etc. (for example: We may need a consultant who can address the IoT or build a business unit to address the need for the programmability of things).
Then, we come back a full circle and again take a look at the current market to get a pulse of where technology is heading. We gain insights by going through customer feedback, where they are constantly telling us what they want and what they are planning to do, and try to see if this is a capability that we have as a business and not just as an operational tool.
For instance, in Managed Services, we had Network Management and IT Infrastructure – and now we have added a new capability – Application Development. Not too many Managed Service Providers have an Application Development unit. To, fit it into our operations, we built a separate business unit for it.
In the last few years, we have scaled this business unit , which works in close collaboration with our Managed Services team. This step provides us with the necessary leverage when we talk to businesses; because now, we not only provide managed services but also create bespoke applications for them. This added benefit allows our clients to manage their technology needs and lends them a competitive edge. This is a win-win situation for both of us.
Bob Gabrielski (Moderator): To give some context to what you said, what types of clients, what types of businesses would you be looking to deliver these services to?
Les Williams: We have different channels to determine the type of services that businesses might need. Small organizations don't want to invest in resources to watch and fix issues, so they outsource it. In some instances, they can have identifiable network operation center workers that we provide within a facility who can become an extension of their operations.
Medium-sized businesses just want to outsource it all because it's really a distraction for them. With the plethora of technologies, it's really challenging; that is why they turn to us for guidance in helping them filter though the noise. They outsource everything to us and we manage it to help derive the best business value. We design, deploy, and provide 24x7x365 maintenance service to support the entire IT lifecycle.
Telecommunications carriers, OEMs, and VARs are our biggest customers. Tier-1 providers focus on delivering network services by outsourcing to Managed Service Providers like us. We deliver value-added services through specialized technology skills in the design and deployment stage, and provide ongoing maintenance and management around the clock. This allows these providers to focus on delivering their core product and leverage a trusted partner to do the peripheral support work without compromising on the overall SLAs for the customer.
Then we have the mid-sized enterprises as well, which span multiple verticals. The bottom-line is that every organization needs a solid mechanism for technology management and that's where we come in.
Bob Gabrielski (Moderator): Is it really important to know your customer and understand their business but even more important to know the personalities that are involved and the decision-makers that you are talking about?
Les Williams: Yes. We put in a lot of effort in defining the personas of our customers prior to acquiring them and in deep relationship building after they are with us.
Les' response to this question came following a matured conversation around the table, which had digressed to focus on the impingement or strain that could be placed on the dynamics of that relationship with the customer. It was mostly focused around the cost of operations and capital impacts resulting from customers who do not pay their bills on time. This is not a common challenge for ExterNetworks and Les provided a different perspective…
I understand where the other panelists are coming from. A product company needs to maintain a large stock. To maintain a large stock, they need a recurring capital, which is contingent on the customers making good on their debt obligations. This varies for service businesses because we, at most times, bill in advance. Therefore, we don't face challenges related to customer debts, which may put a strain on our relationship with them. From time-to-time, we provide professional services; therefore we get to collect a 50% deposit in advance.
Bob Gabrielski (Moderator): How do you assess your capital needs for growth and how do you go about raising that capital?
Les Williams: The challenge for us is [is not customer relationship or cash flow strain resulting from customer payment habits, but] to scale our operations. We are a privately held company, and as such, we are extremely mindful of our credit. Our need for capital goes closely with the scalability conversation that we left off on just before this question was asked. Because that is the only time when you are able to deliver on the feedback of the customer. And as a part of that Product Life Cycle Management or at that part of the development process, you do not only solicit what the customer gives or wants, but you go back and verify and make sure that you're providing what they are looking for and that it is commercially viable.
We look at the capital needs when we have to bring new products or services to the market. We also test the product's commercial viability and look closely at the ROI. How soon will we have customers that are ready to get on board? Do we have better services and will this service meet their need? After our initial assessment, we will know if we can use what we have, or if we need to create a new service offering. Then we will know if we have the need for additional capital.
Our needs are for capital inducement, usually with scalability, expanding new products, new markets, infrastructure investment, and we pay close attention to see that it is a practical or a realistic spend.
Bob Gabrielski (Moderator): How do you ensure that your employees stay engaged and adapt to the plans and operations that you've developed? What do you do to get them to participate?
Les Williams: We implemented the Employee of the Year and a general awards program last year. Along with many of the other good programs already mentioned around the table, we have a few things that we do differently including the way we are structured and how we solicit engagement and input from our employees. We host skip-level meetings year round between the top management and executives who are a few tiers below. We currently have about 620 people on our payroll a large number of whom work from our offices in Hyderabad, India. I just got back from India last Wednesday and when I was there, a large part of my time was spent just sitting with each one of these team members who are in the frontlines of our business. This does take up some of my time and efforts and has its own set of challenges. Sometimes, you can do it in the office. On other occasions, you take them for a fifteen-minute chat, and you get to know what is foremost on their mind. We always ask, "How am I doing?", "What can I do better?" and this makes them think, "I'm not going to be penalized" and puts them at ease. It builds trust and a strong sense of attachment to the business because they know that their opinions matter, that they are valued and are participating in the most important matters of the company.
Watching their peers voice their ideas, other executives also begin to do the same thing. We leverage a lot of the collaborative tools as part of our daily engagement. I use Skype, WebEx and even walk up to their table, whichever is convenient for them, so that they can stay engaged and be openly accessible, which is a great way for us to get everybody's input.
For instance, a member of my social media team once asked me a funny question – Why don't we look at our competitors' sites where they list all their customers and make a push for them? That's something that I did not think about earlier – that potential customers are right out there in the open staring back at us. The only thing is, we like our customers to feel comfortable and come to us at on their own will. They are not just doing their jobs blindly, but they get a sense of the big picture and are always bringing brilliant ideas. So we always keep the door open to such ideas and ensure that they stick around with the company.
There is also a 401K plan. We focus heavily on instant gratification. So in addition to commission for our sales team, other folks get bonuses which are based on KPIs for MBOs. We give them quarterly objectives, such as – What do you want to achieve in this quarter? Where do you see yourself in 5 years? How would you like to shape your career within the company? Together, we set goals and objectives which are aligned with the goals of the company. If they can come up with a set of goals and objectives on their own, that is a bonus. This gets them going most of the time.
Also, over time, we identify their key skills, talents and what they are most passionate about. We try to nurture them even if they are passionate about pursuing any other skills outside of their current work requirements. For example, I have a content writer who has an M.A. in English, and he's been doing well for content development. Recently, he came to me and said, "I'm going to law school." I thought, "It's a little bit crazy. How is that going to benefit the company?" When you think about it – he is passionate about it and would like to pursue it further. Given his level of commitment and insight into our business, he could come back after law school and work for us in the Contracts Department. This is a great platform for a legal resource that knows the ins and outs of our business and can be an excellent legal mind in technology management matters. I gave it some real thought and worked out a package with him, where he can go to law school and at the same time, deliver on what he has been doing so far in content development. We would like to begin to look for new ways in which we can help him pursue his passion and shape his career in a manner that is beneficial to both him and the company. So we use all these different avenues to get them engaged, reward them and keep them motivated.
Top 5 Reasons Why SMBs Must Rethink of Hiring an In-house IT Team for their Network Infrastructure
Exploring Vulnerabilities in Network Security
Subscribe to our Newsletter
Get the latest content from our Managed Services Blog.
Latest Posts