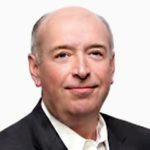 In today's challenging business environment, managing your company's human capital is critical to its success. Detaching 'recruitment' from 'HR and retention management' is one of the essential steps. Is your organization's approach to recruitment and retention aligned with its strategic goals? Are you geared up to take the fullest advantage of the functions of HR by outsourcing recruitment and focusing your valuable time on other critical HR functions such as retention management? Read on…..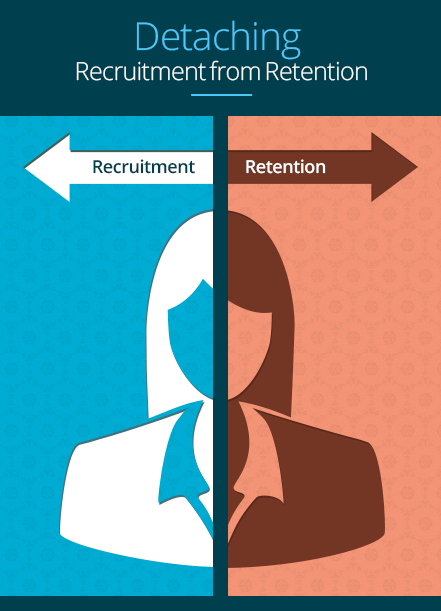 Separating Recruitment from Retention
UNDERSTANDING 'RECRUITING' & 'RETENTION'
Over the past few years, the term "recruiting" has been increasingly attached with the term "retention." Many industry people club these two terms together such as 'Director – Recruiting & Retention' or 'Manager – Recruiting & Retention'. Most organizations seem to use these terms very loosely, and hence, it is necessary to get some clarity on this.
'Recruiting' refers to the activities undertaken to convince employees of other organizations to leave their existing organization in favor of a new one. The end result of this process is the addition of new employees to the new organization's payroll. Recruiting results in influx of new talent into an organization. However, it is important to note here that the term 'internal recruitment' is a misnomer since an organization cannot recruit someone, who is already an employee with it. Moreover, it reduces the effectiveness of the HR function's ability to recruit new talent into the organization.
'Retention' refers to the activities that an organization undertakes to keep its highly valued employees engaged and committed to it. In other words, after the employees are recruited, hired, trained and become productive, the new organization initiates certain actions and engages in certain behaviors to motivate the employees' loyalty towards it, which is termed as 'retention'.
THE NEED FOR DETACHING RECRUITMENT FROM RETENTION & HR
If 'recruiting' focuses on external talent, who do not yet work in the new organization, and 'retention' focuses on keeping the employees already working with the new organization, aren't these two activities distinct at their core itself? Don't they require vastly different activities and skill sets to accomplish? Why do most organizations then club these two activities together?
Another challenge in clubbing these two functions is that the capabilities required to be a great recruiter don't overlap much with the skills required to build impactful and measurable retention programs. Great recruiters have an external focus on people who do not work – and may have never thought about working – in the new organization.
Retention initiatives are internally focused on people, who have already decided to work with the new organization. Why should organizations think that an individual would be good at – or be able to divide his time between – the two vastly different activities? In fact, both roles are large enough to ensure that if a person is doing well in one, he is almost certainly under-performing in the other. According to Talent Trends 2014, a global research report from LinkedIn, some organizations may find it difficult to manage the various functions of HR such as retention and recruitment. Hence, it is advisable for such organizations to keep both the HR functions distinct from each other for effective functioning of each of them.
THE NEED FOR FOCUSING ON RETENTION MANAGEMENT
Many organizations, in an effort to attract the best talent, seem to have lost focus on retention, which is a vital function of the HR. Employee turnover costs a bombshell (See Table 1). For instance, studies suggest that every time an organization replaces a full-time employee, it costs six to nine months' salary, on an average. For a manager earning $60,000 a year, that's $30,000 to $45,000 in recruiting and training expenses.
TABLE 1: THE ANNUAL COST OF VOLUNTARY & PREVENTABLE TURNOVER TO ORGANIZATIONS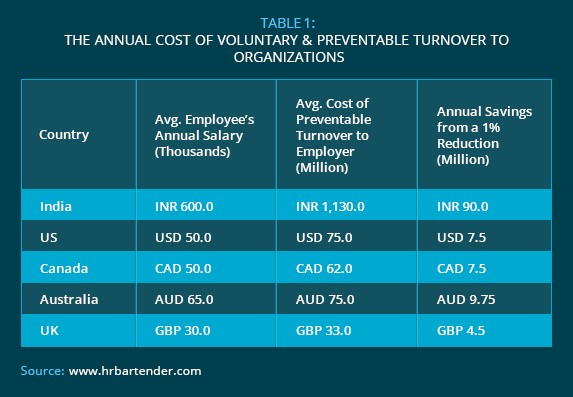 Some studies also predict that losing a salaried employee can cost as much as twice their annual salary. Table 2 shows that retention is as much a key to an organization's success as hiring top performers.
TABLE 2: ANNUAL TURNOVER OF EMPLOYEES ACROSS COUNTRIES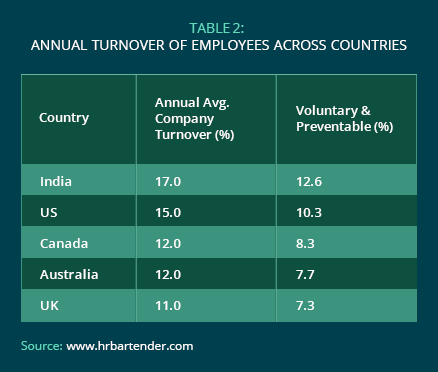 According to a recent survey by the Society for Human Resource Management, one of the top three challenges facing HR professionals in the next 10 years is retaining and rewarding the best employees. Organizations need to focus on retaining talent, since 90% of companies believe that their employees make the decision to stay with a company within the first six months.
THE CASE FOR OUTSOURCING 'RECRUITMENT'
All business owners are well aware that running an organization involves a lot of hard work and time. So, getting help from outside in the form of outsourcing is often seen as something indispensable, rather than a luxury. In fact, the entire outsourcing industry has been thriving by offering their business services in all areas to various organizations. One of the most important functions of HR that an HR organization should outsource is 'recruitment'.
Outsourcing recruitment implies transferring all or a part of your organization's recruiting and hiring activities to an external service provider (outsourcer), who will manage the specific HR functions for you. Although most organizations prefer to have their own HR departments to handle recruitment tasks, outsourcing recruitment is one of the best decisions you can make.
The recruitment process, at times, can be very cumbersome and tedious. Furthermore, the entire process requires you to spend resources, including time, without knowing whether or not you'll find what you're looking for. And, time is a very valuable resource that many organizations cannot afford to fritter away. From designing job advertisements or posting on social media to conducting various rounds of interviews and contacting the candidates to communicate about their results can take several weeks and, sometimes, even months! Outsourcing recruitment to professional recruitment organizations will help you expedite the recruitment process and save your valuable time in the entire process.
Although outsourcing recruitment may cost money, in-house recruitment can prove to be more expensive in terms of training a staff member on recruitment process or making him sign on some courses for the same. Moreover, it will be an expensive proposition if you hire a wrong candidate or spend your valuable time on the recruitment process when you can utilize it efficiently in, say, retention, or some other HR function. Availing the services of a professional recruitment agency ensures that your time is put to the best use by focusing on more important things of the organization that need your immediate attention. Also, a professional recruitment firm ensures that the recruitment process is conducted legally and efficiently, without any hassles. Outsourcing recruitment can also help you in reducing your employment related costs by finding the right person for the right position in a timely manner.
When an organization is new to the field of recruitment and has little or no experience, then it makes sense for it to utilize the skills and experience of a professional recruitment agency, who can help them avoid many of the pitfalls or mistakes committed by inexperienced recruiters. Moreover, if you are into a business that specializes in recruitment for a specific sector, then you will have to utilize the services of a recruitment firm that specializes in recruitment for that sector.
If your business is growing rapidly and you have to scale it up, then it may pose challenges to your HR department. In such a situation, opting for an external recruiting agency, which can keep up pace with your expansion rate, is necessary if you want to get the right staff at the right time.
When you decide to outsource recruitment, the external recruiter will help your HR staff by completing specific operations such as searching for the right candidates, employing effective measures to attract talent, interviewing the candidates, analyzing their skill sets, evaluating philosophy and culture to determine whether they are the best fit for particular jobs. This gives your HR staff the opportunity to focus on other important aspects such as recruiting internal candidates, building employment brand, focusing on retention management, and addressing the needs of your existing employees.
THE EXTERNETWORKS ADVANTAGE
ExterNetworks is specialized in recruitment process outsourcing. We always deliver superior standards of quality and talent to our clients. The fact that ExterNetworks ranks 1,255 in the prestigious Inc. 5000 and 38th in the Top Hundred New Jersey Companies bears testimony to this fact. Since 2002, our Outsourcing and Consulting Group has been providing the best-in-class talent acquisition solutions to our clients, including some Fortune 500 ones. We have a proven record of delivering successful customized recruitment solutions for all our client requirements. We always follow the best practices in all our services.
The ExterNetworks 'Difference'
Customized Solutions: Flexible deployment to suit your talent and company needs
Top Recruiting Talent: Our expert recruiters average more than 10 years of experience in tracking down the best available talent and always ensure maximum effectiveness
Sourcing Excellence: Led by seasoned industry thought-leaders, our dedicated sourcing development and innovation keeps you ahead of the dynamic talent landscape
Agile Operations: We provide scalable, global delivery with highly adaptive sourcing and best-in-class recruiting capability
Proven Success: Over 10,000 annual hires and more than 100+ projects executed in the past decade
How the Apple Watch and other connected devices will impact enterprise IT infrastructure
Public Cloud and NOC Service Integration
Subscribe to our Newsletter
Get the latest content from our Managed Services Blog.
Latest Posts