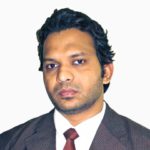 Cloud adoption is no more a matter of if, but what and when. Many organizations have realized and experienced its vast benefits such as business agility, scalability, flexibility, and ROI. In this article, we have listed some of the adoption statistics and reviews that shed light on the potential future of cloud computing trends, from contributors such as IDC, HBR, and Rightscale surveys.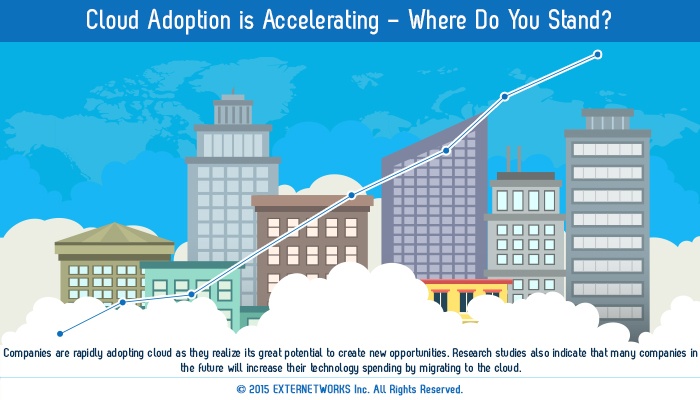 Companies are rapidly adopting cloud as they realize its enormous potential to create new opportunities. Research studies also indicate that many businesses in the future will increase their technology spending by migrating to the cloud.
Based on a series of cloud computing adoption surveys conducted by credible research companies ( IDC, HBR, Skyhigh and Rightscale surveys), it is found that in spite of challenges – enterprises from different industries are embracing the cloud for more business agility, flexibility, and to drive new business opportunities. According to the HBR survey study, the most valued benefit that participants found is the rapid adoption of trends, productivity, and additionally, through technology transition, they found a substantial reduction in IT cost. These surveys also found that Public Cloud is the most preferred computing model and that Amazon still leads the cloud computing game. As Cloud offers infrastructure reliability, performance, cost savings, scalability and flexibility, so embracement of IT infrastructure in Cloud spending could reach 55 billion in next five years.
Cloud Embracement Executive Report
In a global Cloud migration survey conducted across approximately 1500 business and technology leaders by the Harvard Business Review Analytics service – it reveals that despite challenges, participants are eager to adopt cloud to gain competitive advantage, as they see tangible results.
Participants' summary
Decision makers were the highest percentage of participants, with 54%, in the survey. In seniority, 52% were either in executive or senior management positions, and 10% have been CIOs. Moreover, concerning their roles and responsibilities, 21% of profiles were responsible for IT functions, and another 25% in general management. Regionally, the most participated respondents were from North American companies at 52%, 29% from EMEA, and 15% from Asia have shown interest in this Survey.
Participants By Industries
17% of the survey members were from the IT Industry, 10% were from finance, manufacturing, and Government, and participants from other industries were 12%.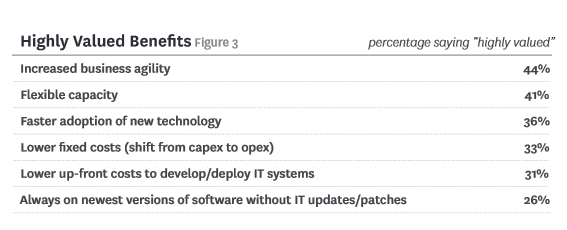 Segregation of Cloud benefits that companies can gain through cloud technology.
In the Skyhigh survey, there were globally 212 professionals with different roles and designations from varied industries.
IT security professionals were the highest percentage of participants with 33% in the survey, followed by 32% and 25% from other designations and IT respectively, and 10% were from compliance and audit role. The survey covered 17 countries, wherein the highest number of companies participated were from Americas (64%), followed by EMEA and Asia Pacific with 20% and 16% respectively.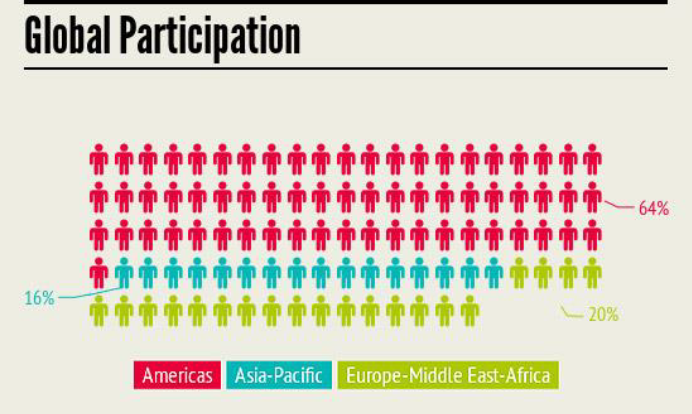 Moreover, it is noticed that Skyhigh survey participants were from distinct sizes of companies. 68% of participants were from companies with employees ranging from 1- 5k, 19% were from companies with a size of 5001 to 50k employees, and the remaining 14% were from organizations with 50,001 plus employees.
Statistics By industries:
Respondents of high-tech firms, who were 21%, showed a lot higher interest than other companies. The remaining respondents were from financial services – 13%, telecommunication – 9%, entertainment – 8%, Government sector – 7%, healthcare – 6%, and manufacturing – 6%.
Note: Create a Graph Conveying Stats by Industry (Required Designers Help or spreadsheet Graph)
In another Global Cloud Embracement survey conducted by RightScale, of 930 technology executives from varying industries acknowledge that adoption of cloud computing is on the rise in comparison to 2014 statistics.
Respondents from different size of companies took part in the survey; furthermore, the report has classified organizations by size as employees ranging from 1- 100 as Small and Medium Business, and employees ranging from 1000 plus as enterprises. Reportedly in the survey, 306 respondents were from organizations with 1k employees and 624 respondents were from organizations with less than 1k employees.
The below graph represents that 45% of the respondents were from organizations with 1- 100 employees, 22% were from 101 t0 1000 employee firms, and 32% were from >1001 employee firms. The highest no. of participants were from organizations with <100 employees – employees from small and medium organizations actively participated than their counterparts from bigger organizations.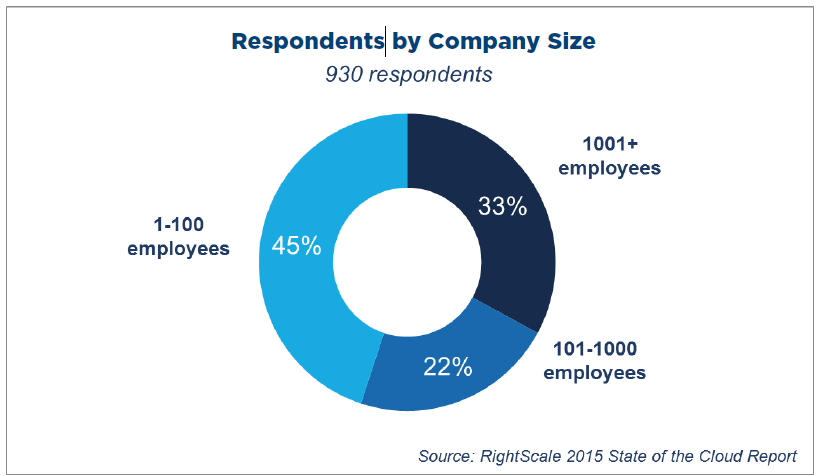 We tried determining how focused the respondents are for Cloud Transition and how dedicated are the existing cloud users:
Excerpts from the HBR Survey:
About 85% of the total participants said that they would be using cloud moderately to extensively in next three years. The study also estimated that respondents would jump 24% to 52% in extensive usage of cloud in next 3 years due to cloud's proven ability to improve their business growth, collaboration, and innovation. 33% and 7% of respondents who have been using the cloud for over 2 and five years respectively, gained exceptional business values and benefits like reduced IT operations cost, market expansion, and new opportunities. Respondents who have profitably examined cloud since five years have gradually adopted cloud to an extensive level, probably because they might have successfully benchmarked it to gain benefits over their competitor's landscape, flexibility in team collaboration, minimal IT operations cost, or adopt new trends. A CIO of a Global Electronics Manufacturing service provider commented that Cloud has the potential to create agile business processes, solve complex challenges, and it is cheaper to implement and run than the other technologies.
From the time of survey to the next 18 months, there could be 22% of extensive cloud adopters, which will be 6% higher. Additionally, there will be 43% of average cloud users in 18 months, up by 18% from the time of the survey, and the highest estimated growth in the average cloud users will be 33% in 3 years.
This survey also reveals the most interesting facts, based on the statistics, that how the decision makers will be gradually adopting cloud depending on the tangible evidence of benefits, benchmarking case studies, and other factors. At the time of the survey, there were 31% and 28% of limited cloud and no cloud users respectively, but as the Cloud evolves globally, its adoption will be a holistic approach to deal with competitive challenges, streamline business operations and drive business growth. Moreover, by three years from the time of the survey, there could be 12% and 2% of limited and no cloud users respectively. Apparently, these enterprises would drive with Cloud adoption trends based on the resources.
Participants in 18 months and three years, with no interest in cloud embracement, could surge from 28% from the time of survey to 7% and 2% respectively.
Additionally, the report also suggests that 26% of the respondents who are not using cloud would embrace cloud if they had improved understanding of cloud capabilities, whereas about 14% and 11% will migrate to the cloud if they have had a better understanding of Cloud security and cost management respectively.
Following are the statistics reported by HBR survey on how confident the respondents were while making a Cloud transition decision:
In comparison to the other IT professional participants, the CIOs by 34%, are the most confident about transitioning applications to the cloud, as they have enough information encompassing to support Cloud adoption decision. CIOs are keen about latest technology trends that can evolve the business.
From the overall stats, 20% are very confident in adopting cloud computing.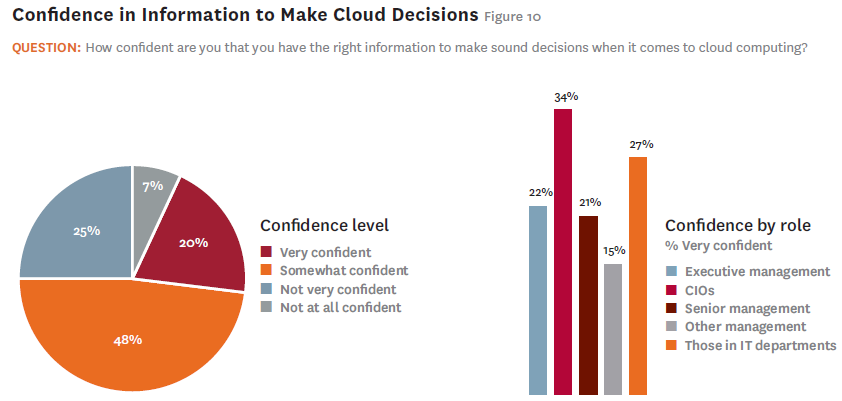 In RightScale's report, participants have been classified by distinct levels based on their interest and dedication towards the cloud. Based on the survey insights, we found that 26% of this it is participants are the most serious users of Cloud integration and that they are planning to optimize the cloud strategy to gain substantial benefits through cloud technology. Another, 26% of the respondents have already deployed their applications and other IT operations over the cloud and are planning to extend its usage. 23% of survey participants are beginners of cloud computing platform and are trying to gain exposure to figure out a robust strategy for their future projects, and the remaining 15% are analyzing cloud usage options before they migrate their applications to the cloud. 55% participants said that they have developed 20% of their applications for the cloud and are ready for cloud migration.
The survey report classified levels of Cloud Adoption by users as following – No Plans, Cloud Watchers (who are closely watching the cloud's pro and cons), Cloud Beginners (users initiated deploying their first application), Cloud Explorers (users practicing cloud integration and are trying to optimize the strategy), and Cloud Focused (users using cloud heavily).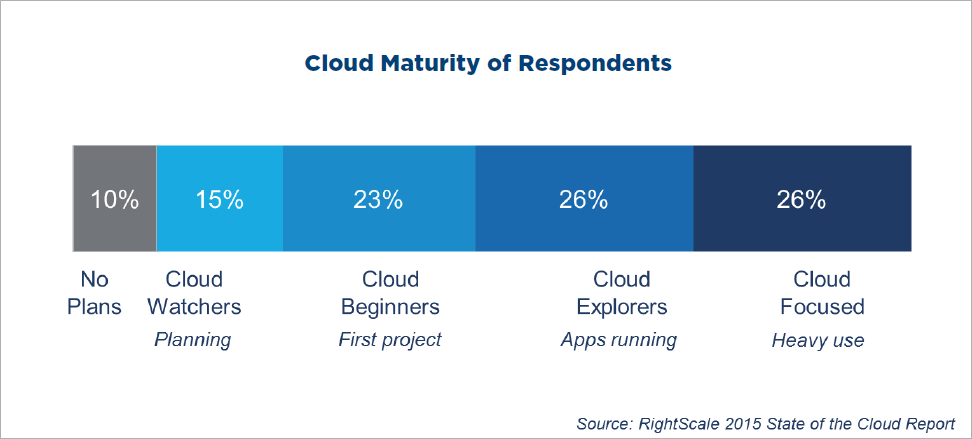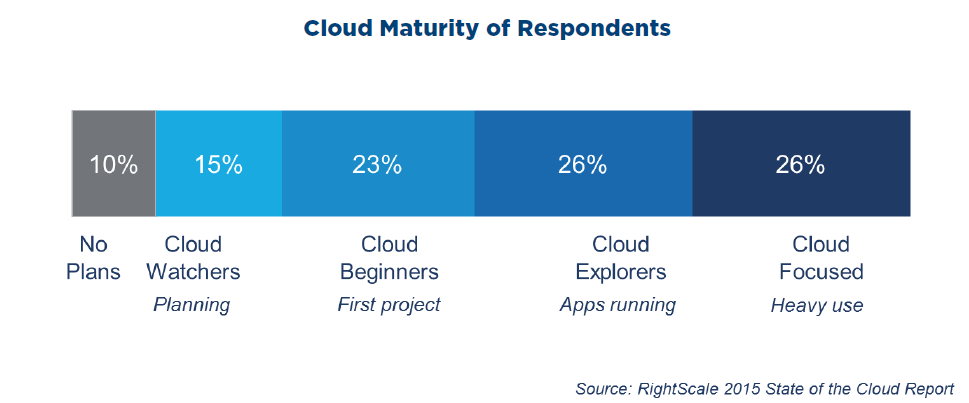 About 26% of the participated technology professionals have been using the cloud most extensively in the complete survey.
There are distinct differences in cloud adoption for large enterprises (1000+ employees) and Small and Medium Businesses (<1000 employees).
At the enterprise level, 18% of companies are dedicatedly using Cloud, which is lesser than
Based on the statistics, it seems enterprises are taking precautions while gradually moving to the cloud. However, at the intense cloud usage level, there are 29% of SMBs that have been using the cloud as compared to only 18% of Enterprises.
Also, Enterprises are more into evaluating cloud usage at an optimum level to get the most out of it.  Whereas 3% of Enterprises have no plans to adopt cloud, but 14% of SMBs do not have any plans.
Insightful comparison between 2014 vs. 2015 cloud users:
In the following graph, in 2014, there were 6% of participants who had no plans to transition to the cloud, whereas in 2015, there were just 3% participants. Therefore, the remaining 3% have changed their plans to move into Cloud. Moreover, Cloud Explorer, a distinctive level where users have integrated cloud computing and are planning to use cloud extensively in 2014 and 2015 were 29% and 38%, respectively. Overall, the cloud adoption in 2015 has notably improved from 2014.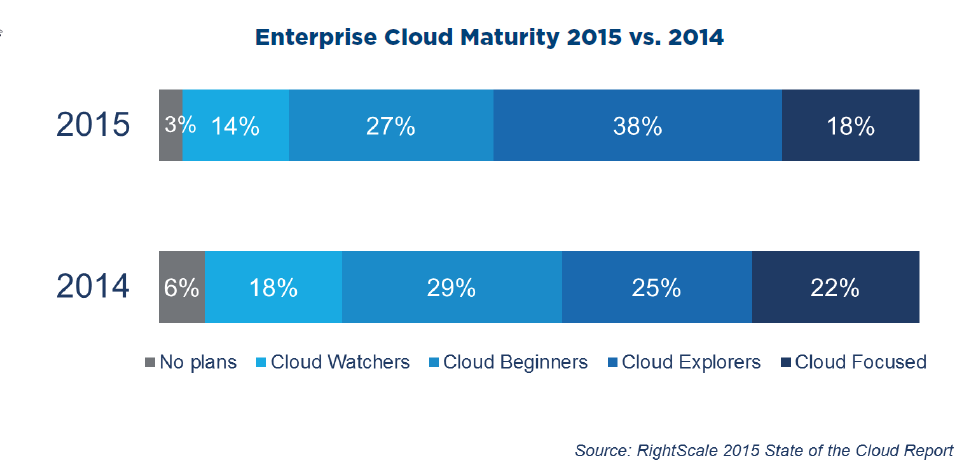 Through Skyhigh report, it is noted that 86% of the companies are using at least one cloud solution. Because of the significance of cloud technology, 33% of executives will embrace cloud without a second thought while 41% will be moving to the cloud by paying close attention. 15% of participants are in the initial level of investigating the cloud's pros and cons, and the remaining 11% did not consider cloud deployment in the to-do list.
Feedback from Technology Leaders on Cloud Enablement in the HBR survey:
One of the business strategies of a transport organization in the HBR survey said that cloud technology is "information-as-a-service," as it enables collaboration in the team at different levels.
The CIO of a $30 billion manufacturing company, who has been using the cloud for five years, says cloud technology resolves substantial technical problems by letting the operations management sort out high-level concerns, manages retail, post-sale data, and sends information to suppliers in real time.
The CIO of a medicine staffing service provider says cloud offers business scalability and adoption to give the enterprise owners a much easier way to acquire new businesses and opportunities than any other technology.
The CIO of a $30 billion Global Design, Manufacturing, and Services Company found a real competitive advantage and landscape when they had to go head-to-head in the market after adopting cloud. His conclusion was based on his experience when his company got a contract from a known OEM, who owned over 2,000 repair shops. The OEM had to deploy on-premise infrastructure and service applications in all the shops, which will amount to millions of dollars, all in a substantial amount of time and also train the store managers. The CIO found cloud's scalability, time-to-market, and cost-savings the best fit for his client's need. Eventually, they adopted PaaS solution to fulfill the client's requirement.
What are the various challenges that participants found in Cloud Computing?
60% of respondents found data security as a major risk on Cloud, whereas 46% of the survey participants find reliability and business continuity as a concern, and 31% reported a lack of interoperability.
However, there are a good number of companies that are presently not using cloud computing.
Companies with more than 1000 employees are not on the cloud because of upfront costs (24%), internal resistance (59%), lack of value proposition (55%), and high risks (69%).
According to RightScale, in 2015, the most significant cloud challenge was security, rated at 28% by survey members, which grew by 2% since 2014. 27% of the survey respondents find lack of resources and expertise as more challenging than compliance (25%).
Another survey conducted by IDC reported that spending on the cloud IT infrastructure would most certainly reach a volume of $33.4 billion and grow by 26.4% in 2015, accounting for ⅓ of total infrastructure spending. Comparatively, the non-cloud IT infrastructure spending will remain at $67 billion. IDC research also expects the spending on Cloud IT infrastructure to grow at a compound annual growth rate (CAGR) of 15.6% and reach $54.6 billion in the next five years.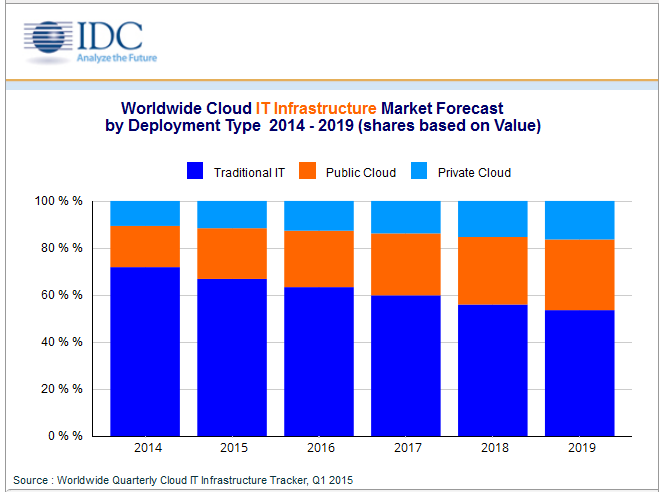 IDC Survey – Cloud IT infrastructure spending market forecast
A different survey conducted by IDC reported that spending on the cloud IT infrastructure would most certainly reach a volume of $33.4 billion and grow by 26.4% in 2015, accounting for ⅓ of total infrastructure spending. Comparatively, the non-cloud IT infrastructure spending will remain at $67 billion. IDC research also expects the spending on Cloud IT infrastructure to grow at a compound annual growth rate (CAGR) of 15.6% and reach $54.6 billion in the next five years.
Public Cloud Adoption Statistics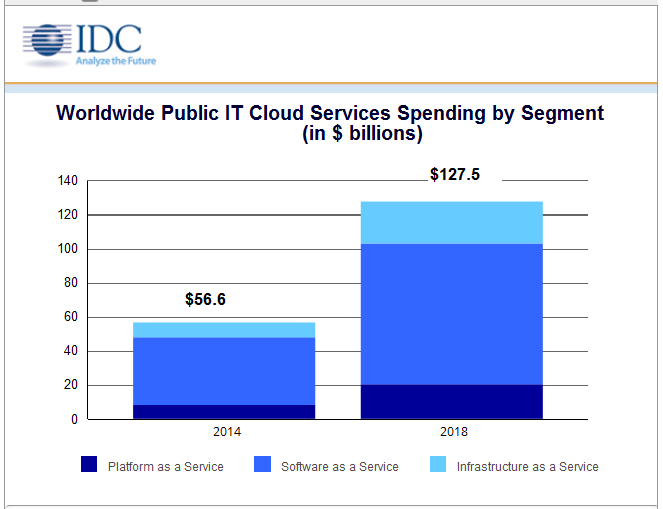 IDC Research – Public cloud Computing spending by Cloud types(Paas, Iaas, Saas)
According to IDC research, many companies from varied industries find public cloud as the most adaptable model and its spending has approximately reached $70 billion in 2015, which significantly rose by 24% from 2014 to 2015 and could possibly extend to $127.5 bn by 2018 at a five-year compound annual growth rate (CAGR) of 22.8%.
HBR survey published that 29% of public cloud computing is most likely used by small businesses.

HBR Survey reports type of cloud usage
According to the Rightscale Survey, 88% of survey participants use public cloud computing.
Gartner projects 17% of a five year CAGR for the public cloud market from 2013 to 2018 with a total market size reaching up to $286 billion.
Public Cloud Usage Statistics  over Different Cloud Service Providers
Based on the Rightscale survey, as shown in the charts below, Amazon Web Services is used by the larger part of public cloud customers. In terms of cloud computing providers, 57% of respondents are presently using Amazon cloud services, which has risen by 54% from 2014. Among respondents, 17% are experimenting, and 7% are planning to adopt (Amazon) cloud services in future. Azure stands next in cloud services used by 12% of survey participants running apps on it and has risen by 12% in 2015 (from 6% in 2014).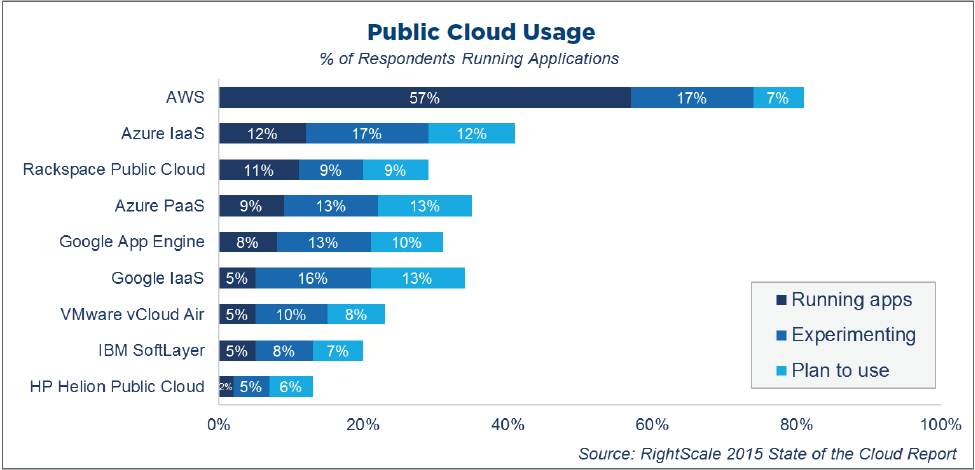 No. of respondents using public cloud computing on different cloud service providers.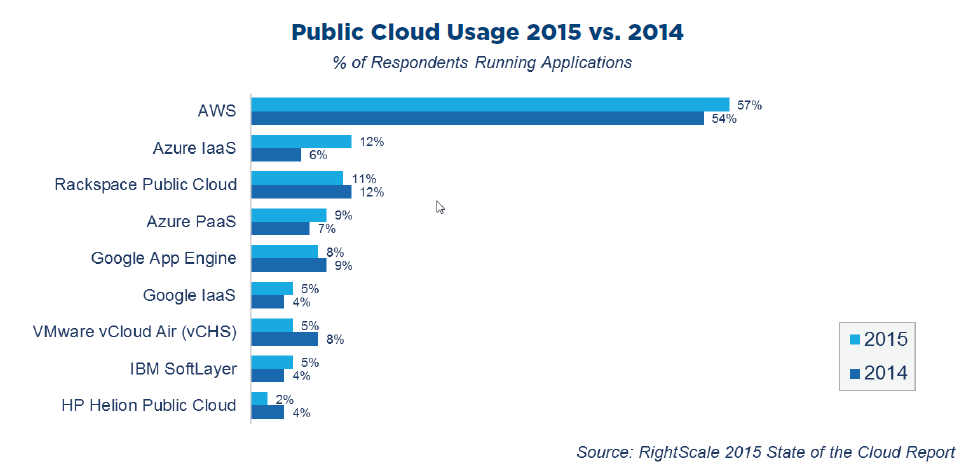 Comparison of public cloud technology adoption from 2014 to 2015.
Hybrid Cloud Adoption Statistics
IDC projects that by 2016, over 65% of enterprise IT firms will opt to use Hybrid Cloud services, and according to the RightScale survey, 58% have already adopted Hybrid cloud computing out of 93% respondents and 88% of companies preferred a Hybrid cloud strategy, which is up by 74% than in 2014. HBR survey says 34% of organizations are using Hybrid Cloud computing extensively over the last three years.
Types of Cloud Usage
Private Cloud Computing Embracement
In a recent press release by IDC, Private cloud computing was just under $10 bn in spending in 2014. It is expected to grow approximately 16% year over the next year and could reach $12 billion growing at common CAGR till 2019.
HBR Survey finds private cloud computing adoption is 37% in comparison with other public and Hybrid cloud computing. Private cloud computing will be mostly used by Internal IT operations for flexible and scalable IT infrastructures. Moreover, customers, partners and employees can securely connect with cloud – leveraging data for security and business continuity.
As per the Rightscale survey, private cloud computing in 2015 will continue with small adoptions.
Adoption By Industries
Software industries head by 29% in cloud adoption followed by Tech services at 16%.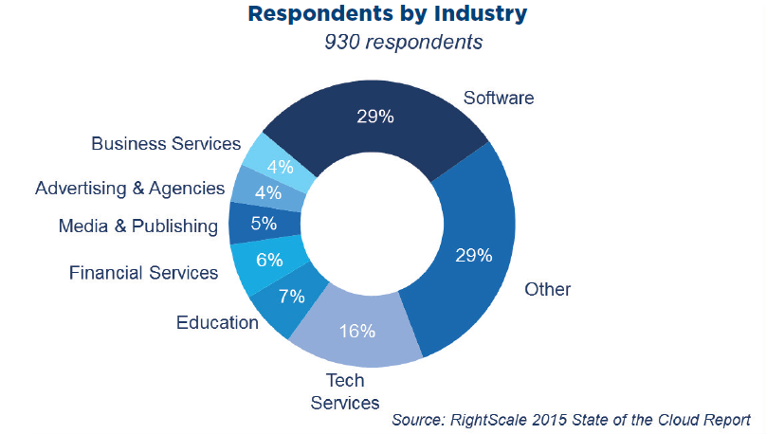 Shows cloud embracement by industry
Adoption by Region
According to Rightscale, North America leads by 62% in Cloud adoption and 18% of European companies have opted for Cloud services.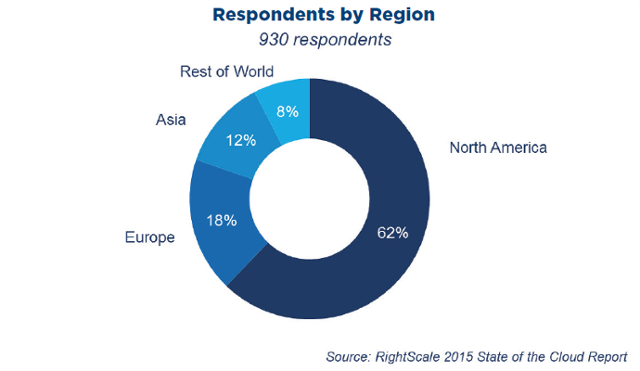 Cloud computing usage by region
Conclusion
These statistics show that cloud adoption is only increasing by the day. Cloud adoption has also become increasingly easier mostly due to the vast ecosystem products, vendors and other references. However, to adopt the Cloud, you must first assess the value of cloud for your own organization. 1 out of every 3 SMBs will rely on the services of Managed Service Providers (MSPs) by 2020 (report sponsored by IBM). Cost reduction and innovation have become the main attraction for relying on MSPs. ExterNetworks is an end-to-end technology solutions provider that squarely focuses on enterprise IT. If you are thinking of Cloud, contact us today to understand its value add for your organization.
Critical Touch Points of IoT
IT Security Infographic
Subscribe to our Newsletter
Get the latest content from our Managed Services Blog.
Latest Posts