Hackers have always targeted customer bank accounts but now, a cyber-gang known as, Carbanak, is stealing directly from banks, totalling over a billion dollars so far.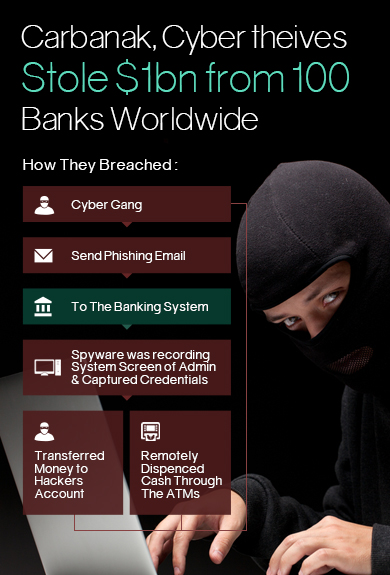 How hackers have breached 100 banks and stole $1bn
Based on the investigation conducted by Kaspersky along with Interpol and Europol, the cyber attacks have occurred in 30 countries, and most of the targeted banks have been in Russia, the US, Canada, Germany, China, and Ukraine.
According to Kaspersky, Carbanak has stolen approximately $10 million at each attempt, and there was an interval of 2-4 months between each robbery.
How did Carbanak successfully breach 100 banks?
They used exceptional data hacking techniques to trace vulnerable points in a network by injecting malware.
This injected spyware captures and records a bank's computers screen, including the user's keystrokes and mouse movements. Burglars were able to understand each individual banks' operations, and it also helped them to find critical systems, which help them to transfer money to their dummy accounts. Furthermore, even they are able to remotely use ATM cash machines to dispense cash.
In a blog post, cyber security for IoT, Our CEO, Malik Zakaria said that, "As cyber security is a major concern in the advancement of IoT, and it is crucial for organizations to take numerous preventions to secure critical assets from cyber-attacks." For bank, there must be a constant struggle to avoid and defend against cyberattacks.
"These attacks again underline the fact that criminals will exploit any vulnerability in any system," said Sanjay Virmani, director of Interpol Digital Crime Center.
Who Are These Hackers?
Kaspersky and other authorities have discovered a gang of cyber thieves, whom they call Carbanak, but they are totally unknown. Commonly, they intrude with malware or spyware using phishing emails sent to banks. When the email is opened, the malware gets downloaded and makes the network vulnerable for attack.
Did Carbanak Breach USA Banks?
Executives from the American Bankers Associations (ABA) checked for malware traces and confirmed that US banks have not been breached so far.
Doug Johnson, senior vice president of payments and cyber security policy at ABA, said that, "I have a high degree of confidence that these institutions aren't somehow denying an impact".
Johnson, even stated that, cyber thieves always show keen interest in targeting US banks, in fact everyday they try to breach the security of banks in the US.
Even though, Carbanak used advanced techniques to hack the banking system, which went unobserved by most security systems, but USA bankers believe, if such a big amount has been withdrawn they would have easily noticed the robbery,
Chris Doggett, managing director of Kaspersky Lab North America, said that, the cyber gang has targeted over 35 banks in the US. When investigating about these cyber thefts, he found that a number of US banks had been targeted. Therefore, he is unconvinced that US banks have not been breached; because, the cyber gang were able to efficiently spy on bank activities, get gain access to private accounts, and manipulate e-payments.
How to avoid being a target of cyber attack?
Advanced security system to spam phishing emails
Regular IT security audit to determine vulnerabilities
Impact Of Net Neutrality On SMBs & Other Businesses - Positive Or Negative?
Make Hay While The Sun Shines – With The New Apple Watch
Subscribe to our Newsletter and
Never Miss a Post!
Get the latest content from our Managed Services Blog.
Subscribe
Latest Posts